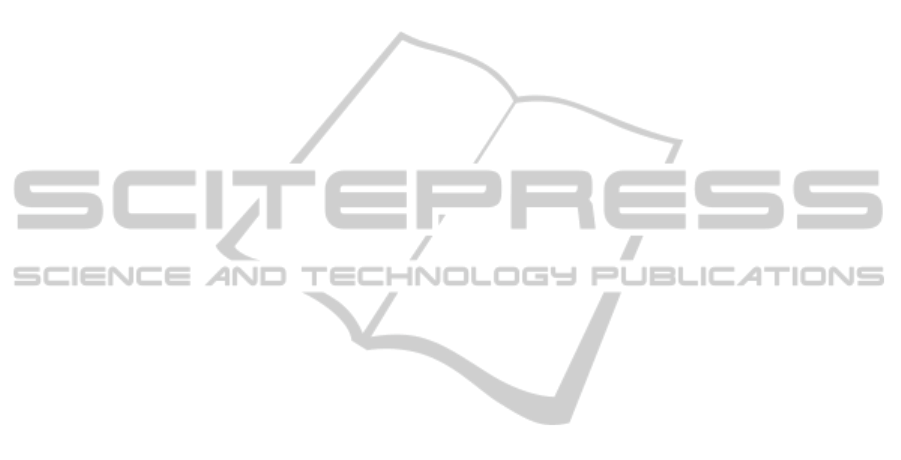 analysis
). This is done by means of a multi-agent
simulation framework that addresses both the
behaviour of individual agents (operators, pilots) as
well as their mutual communication, and interaction
with technical systems. By manipulating various
parameters in the model, different scenarios can be
explored. Moreover, by means of automated checks
of dynamic properties, these scenarios can be
assessed with respect to their likelihood of the
occurrence of accidents. The approach is illustrated
by a case study on a runway incursion incident at a
large European airport in 1995.
The remainder of this paper is structured as
follows. In Section 2, the modelling approach used
in the paper is presented. In Section 3, the scenario
used within the case study is described. Section 4
introduces the agent-based model to simulate this
(and similar) scenarios, and Section 5 presents the
simulation results. Section 6 addresses formal
analysis of the model and its results, and Section 7
concludes the paper with a discussion.
2 MODELLING APPROACH
To model the different aspects of aviation operations
from an agent perspective, an expressive modelling
language is needed. On the one hand, qualitative
aspects have to be addressed, such as observations,
beliefs, and actions of human operators. On the other
hand, quantitative aspects have to be addressed, such
as the locations and speeds of aircraft. Another
requirement of the chosen modelling language is its
suitability to express on the one hand the basic
mechanisms of aviation operations (for the purpose
of simulation), and on the other hand more global
properties of these operations (for the purpose of
logical analysis and verifi
cation). For example, basic
mechanisms of aviation op
erations involve decision
functions for individual agents (e.g., an operator
may decide to give runway
clearance, and a pilot to
abort a take-off procedure in case of an emergency).
On the other hand, examples of global properties
address the overall safety of an operation, such as
"no collisions take place".
The predicate-logical Temporal Trace Language
(TTL) introduced in the work of Bosse, Jonker, van
der Meij, Sharpanskykh and Treur (2009) fulfils all
of these desiderata. It integrates qualitative, logical
aspects and quantitative, numerical aspects. This
integration allows the modeller to exploit both
logical and numerical methods for analysis and
simulation. Moreover it can be used to express
dynamic properties at different levels of aggregation,
which makes it well suited both for simulation and
logical analysis.
The TTL language is based on the assumption
that dynamics can be described as an evolution of
states over time. The notion of state as used here is
characterised on the basis of
an ontology defining a
set of physical and/or mental (state) properties that
do or do not hold at a certain point in time. These
properties are often called
state properties

to
distinguish them from dynamic properties that relate
different states over time. A specific state is
characterised by dividing
the set of state properties
into those that hold, and those that do not hold in the
state. Examples of state
properties are 'aircraft A
moves with speed S', or 'Air Traffic Controller C
provides runway clearance to
aircraft A'. Real value
assignments to variables are also considered as
possible state property descriptions.
To formalise state properties, ontologies are
specified in a (many-sorted) first order logical
format: an
ontology
is specified as a finite set of
sorts, constants within these sorts, and relations and
functions over these sorts (sometimes also called
signatures). The examples mentioned above then can
be formalised by n-ary predicates (or proposition
symbols), such as,
moves_with_velocity(A, S)
or
commu-
nicate_from_to(C, A, runway_clearance)
. Such predicates
are called
state ground atoms
(or

atomic state
properties
). For a given ontology
propositional language signature consisting of all
ground atoms based on
APROP(Ont)
. One step further, the

state properties
based on ontology
Ont
are formalised by the
propositions that can be made (using conjunction,
negation, disjunction, implication) from the ground
atoms. Thus, an example of a formalised state
property is
moves_with_velocity(A, S) &
communi-
cate_from_to(C, A, runway_clearance)
S
is an indication of which atomic state properties
are true and which are false, i.e., a mapping
S:
APROP(Ont)

{true, false}
. The set of all possible
states for ontology Ont is denoted by
To describe dynamic properties of complex
processes such as in aviation, explicit reference is
made to
time
and to

traces

. A fixed time frame
assumed which is linearly ordered. Depending on
the application, it may be dense (e.g., the real
numbers) or discrete (e.g., the set of integers or
natural numbers or a finite initial segment of the
natural numbers). Dynamic properties can be
formulated that relate a stat
e at one point in time to a
state at another point in time. A simple example is
the following (informally stated) dynamic property
about the absence of collisions:
ICAART2013-InternationalConferenceonAgentsandArtificialIntelligence
48