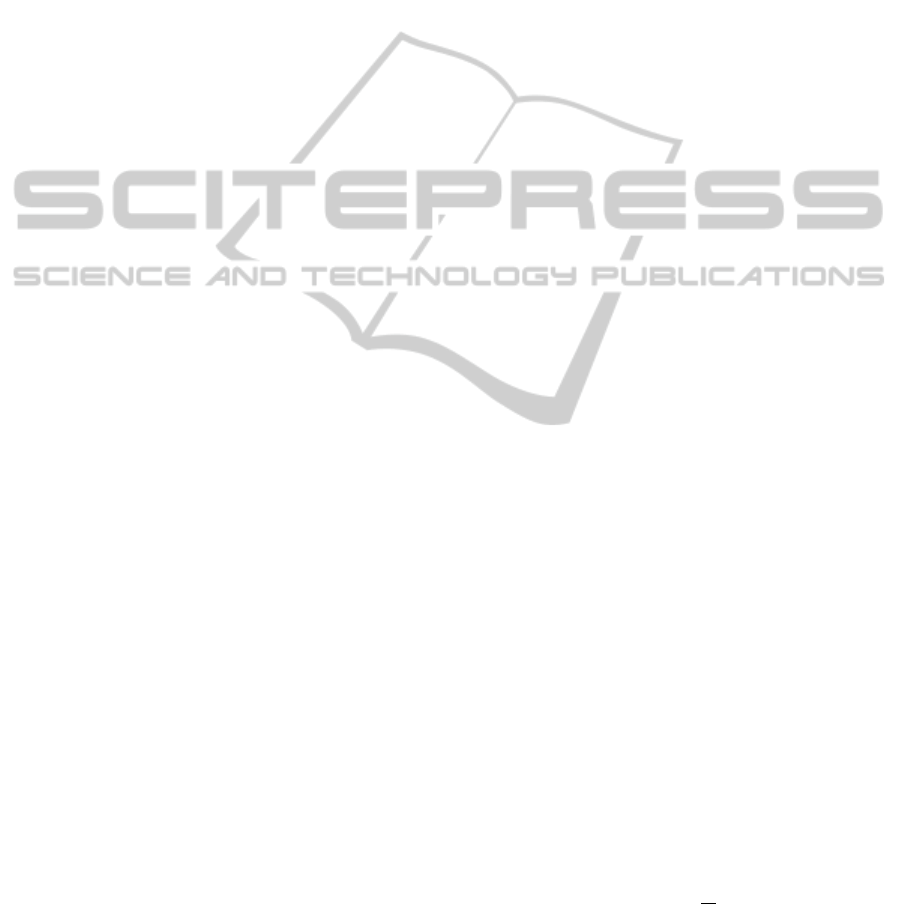 2 decades ago. Since then, dozens of techniques
have been proposed most of which use shape
descriptors to represent the models in an informative
way. Based on the information used, they can be
classified into 4 main categories namely statistic-
based (Histogram-Based), Transform-based, Graph
based and view-based approaches. A beneficial
survey about the aforemen
tioned approaches can be
found in the works by Bustos et al and Tangelder
and Veltkamp (Bustos et al., 2005); (Tangelder et
al., 2008).
Since our proposed descriptor lies in the first
category, in the sequel we provide a brief review of
available methods of statistic-base category.
2.1 Histogram-based Descriptors
In these approaches, a histogram which accumulates
the numerical values of a specific property is used to
represent the model featur
es. Shape Distribution,
Shape Histogram, Extended Gaussian Images (EGI)
and Electrostatic Fields are only to name a few of
these techniques.
The Shape Distribution descriptor (Osada et al.,
2001) contains a set of functions based on geometric
measurements (e.g., angles, distances, areas, and
volumes) using some random points on the surface
of the 3D model. The accuracy of the appropriate
histograms could be altered by changing the number
of random points. Even though D2, one of their
functions, had better retrieval quality than the other
functions, generally speaking, none of the functions
have enough ability for describing 3D models. This
work was extended later by Ohbuchi et al (Ohbuchi
et al., 2003) by using quasi-random sequence of
numbers instead of pseudo-random sequences.
The shape histogram proposed by Ankerst et al
(Ankerst et al., 1999) has been evaluated in the
context of molecular biology and reached good
accuracy and performance. They decomposed the
3D models using one of these three techniques: Shell
model, Bin model and spider-web or combined
model. Their technique is not invariant to rigid
transforms and so they ha
d to do pose-normalization
as a pre-processing step. Also, since the approach
proceeds with voxel data, 3D objects represented by
polygonal meshes need to be voxelised prior to
descriptor extraction.
The Extended Gaussian Image (EGI) is a
spherical histogram in which bins accumulate the
count of the spherical angles of the surface normal
per triangle, usually weighted by triangle area
(Zhang, et al., 2006). It is a histogram that records
the variation of surface area
with surface orientation.
Later some extensions of the original EGI;
Complex-EGI and Volumetric-EGI were introduced
to enhance the original
EGI especially for
differentiate between convex and non-convex shapes
without any pose normalization (Kang and Ikeuchi,
1997); (Horn, 1984).
Paquet et al (Paquet and Rioux, 1997); (Paquet et
al., 2000) exploited both the geometric features and
photometric properties such as cord, angle, colour,
reflection and texture. Thei
r techniques are easy to
implement but since they only consider the global
property of the model, their proposed approach is
not very discriminative about objects details.
Recently, Mademlis et al employed electrostatic
fields to 3D model retrieval (Mademlis et al., 2008).
They considered the complete voxelised 3D model
as a distribution of electri
c charge. Changing control
parameters of descriptors enabled them to extract 24
histograms for each 3D mode
l. Despite of robustness
with respect to object's degeneracies and native
invariance under rotation and translation, their
descriptor is sensitive to non-rigid transforms.
Some other techniques have been proposed to
use histograms for 3D model retrieval such as
utilizing the Probability Distance Function (Akgul et
al., 2009) and distance function by the 3D Poisson
equation (Pan et al., 2011) which in addition to good
retrieval ability, they are robust to shape
perturbation and noise.
The main advantage of histogram-based
approach is their simplicity of implementation.
Almost all of the aforementioned methods are very
straightforward to implement and understand. And if
they are combined with the other methods as a pre-
processing step or active filter they can improve
their retrieval performance.
3 PROPOSED APPROACH
Our motivation for proposing the Charge
Distribution Descriptor (C
DD) comes from a famous
fact in physics-electricity which says: "the electric
charges on the surface of conductor tend to
accumulate at the sharp convex areas and disappear
at the sharp concavity areas".
We treat the 3D model as a conductor placed in a
free space (the space with no electric charge). Then,
a predefined electrical charge
Q
is distributed on the
surface of the 3D models.
The amount of distributed
charges over each face of the model becomes the
descriptor of that face. Fi
gure 1 illustrates the 6 steps
of our proposed approach.
VISAPP2013-InternationalConferenceonComputerVisionTheoryandApplications
214