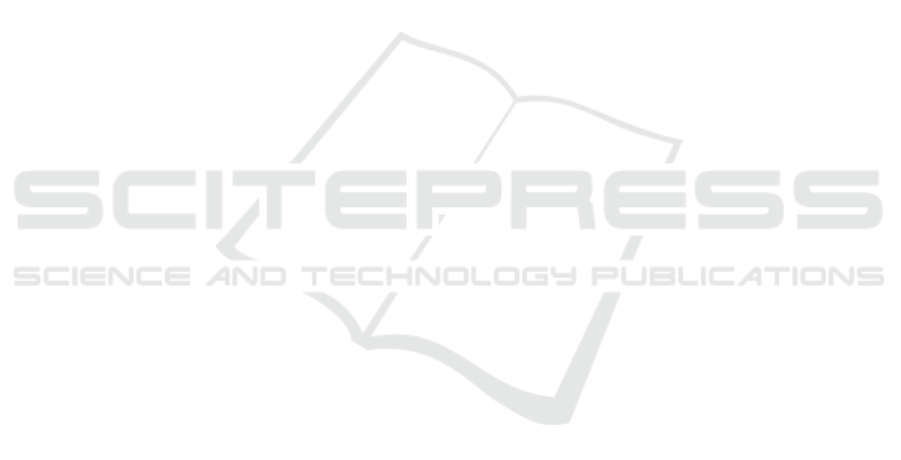 Solid-state Ag
+
Ion Migration for the Controlled Precipitation of PbS
Quantum Dots in Glasses
Kai Xu and Jong Heo
Department of Materials Science and E
ngineering, and Division of Adv
anced Nuclear Engineering, Pohang,
University of Science and Technology (POSTECH), Nam-Gu, Pohang, South Korea
Keywords:
PbS Quantum Dots, Ag
+
Ion Migration, Heat Treatment, Glasses.
Abstract:
Precipitation of PbS quantum dots (QDs) controlled by solid-state Ag
+
ion migration and subsequent
thermal treatment was investigated. Ag
+
ions migrated from Ag paste applied on the surface into glass at
320°C. After following heat treatment, PbS QDs formed
in the near surface area where Ag paste was
coated. Sizes of the PbS QDs were larger in Ag
+
-migrated surface regions than those in Ag
+
-free glasses,
and PbS QDs can grow at temperatures as low as
420 and 430°C. Ag nanoparticles (NPs) also formed
during the thermal treatment. These
results suggest that Ag NPs supplie

d the nucleating sites and promote
the formation of PbS QDs in glasses. The spatial distribution of PbS QDs
in glasses can also be controlled
through solid-state Ag
+
ion migration.
1 INTRODUCTION
Lead sulfide (PbS) has
a narrow-gap energy (E
g
=
0.41 eV at 298 K) and a large exciton Bohr radius
B
= 18 nm), which allows PbS quantum dots (QDs)
to have size-tunable optical properties in near-
infrared spectra (Wise, 2000). Glasses are suitable
matrices to host semiconductor QDs, because they
can prevent the aggregation of QDs and have the
high chemical stability (W
oggon, 1997). Therefore,
glasses containing PbS QDs have the potential
applications as saturable absorbers for near-infrared
lasers (Malyarevich et al., 2008) and in amplifiers
for fiber-optic telecommunication (Heo and Liu,
2007).
Thermal treatment of the precursor glass is the
most common method of precipitating QDs in
glasses (Borrelli and Smith, 1994). Ion implantation
and femtosecond laser irradiation have been
attempted to control the spatial distribution of QDs
in glasses. For example,
ion implantation can induce
the formation of PbS QDs within hundreds of
nanometers from the surface of glasses (Lamaestre
et al., 2005). Femtosecond laser irradiation can also
control the spatial precipitation of PbS QDs inside
glasses (Liu et al., 2010). However, these external
fields always cause the serious damages on the
parent glasses.
Noble metallic nanoparticles (NPs), such as Ag
and Au NPs, are well-known as nucleating agents
for controlled crystallization of glasses (Stookey,
1959) or controlled shape and size of PbS
nanocrystals in liquid solutions (Yong et al., 2006).
Recently, precipitation of Ag NPs as nucleating
agents to control the formation of PbS QDs in
glasses has been reported (Xu et al., 2011). A few
tens of parts per million (ppm) of Ag
+
ions were
added in molten glass batches, and precursor glasses
were prepared by the melt-quenching method. After
heat treatment, intensities of the absorption and
photoluminescence (PL) from PbS QDs increased
with the addition of Ag. This was attributed to the
increased number density of PbS QDs with
increasing Ag. However, the maximum solubility of
Ag
+
ions in molten glasses was only ~40 ppm, and
this limited concentration of Ag
+
ions made the
control of PbS QDs precipitation in glasses difficult.
Ion-exchange method has been extensively used
to fabricate optical waveguides in Na-glasses
(Najafi, 1992). This method can incorporate the
large amount of Ag
+
ions in the glass surface
compared to melt-quenching method. Therefore,
Ag
+
ions were incorporated into glasses by dipping
the glasses into AgNO
3
solution (Xu and Heo,
2012a) or melt (Xu and Heo, 2012b). After thermal
treatment, the size of PbS QDs precipitated in the
Ag
+
ion-exchanged surface regions was larger than
that in Ag
+
-free regions. However, the long ion-
83
Xu K. and Heo J..
Solid-state Ag+ Ion Migration for the Controlled Precipitation of PbS Quantum Dots in Glasses.
DOI: 10.5220/0004335500830087
In
Proceedings of the International Conference on Photonics, Optics and Laser Technology

(PHOTOPTICS-2013), pages 83-87
ISBN: 978-989-8565-44-0
Copyright
c

2013 SCITEPRESS (Science and Technology Publications, Lda.)