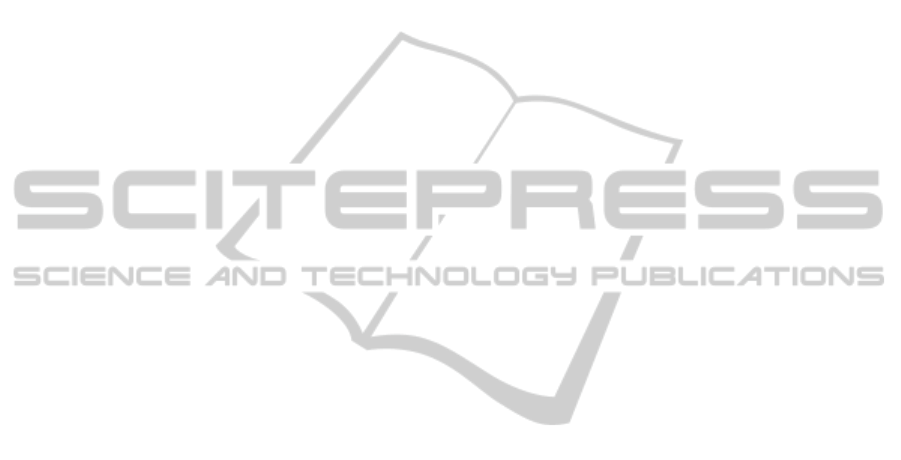 On-line query
applications
. We assume that
many applications of our HTML5 agents collect
information for the user. The motivation could be e-
commerce or just to get information when it
becomes available. To experiment with this
application area we have implemented an agent that
lets users to follow an on-line artist community - in
our case DeviantArt (Deviant art, n.d) for new
content from favourite artists or by selected
keywords. With this application we also
experimented with a computation that had behave
slightly differently in browser and server because the
source of RSS feed provid
es different format and
content for different clients.
While the above applications demonstrate the
main capabilities of the present implementation, we
will continue development of new applications when
new and improved capabilities are introduced. Some
of these ideas are discussed in Section 6 of this
paper.
5 RELATED WORK
As already pointed out, our agents comply with
commonly used definitions such as "
Mobile agents
are programs that can migrate from host to host in a
network, at times and to places of their own
choosing. The state of the running program is saved,
transported to the new host, and re stored, allowing
the program to continue where it left off
"
(Kotz and Gray, 1999) or "
Mobile agents are self-
contained and identifiable computer programs that
can move autonomously within the network and act
on behalf of the user or other entities. A mobile
agent can execute at a
host for a while, halt
execution, dispatch itself to another host, and
resume execution there
". (Yu et al., 2006)
A survey of mobile agen
t technologies has been
given in (Gupta and Kansal, 2011), but the
discussion is limited to traditional mobile agents. In
this paper we propose a new approach in which
HTML5 - a standard feature of a browser - and the
emulation in application server constitute the agent
platform.
Benefits and application areas of mobile agents
have been discussed in (Lange and Oshima, 1999).
From the motivations presented in (Lange and
Oshima, 1999), at least reduction of network load
and latency, asynchronous and anonymous
execution are valid for HTML5 agents, too. Also
many of the presented application areas are common
to HTML5 agents.
An agent platform hosted in browsers has been
presented in (Feldman, 2007). This work has
common targets with ours; it allows agents to be
executed both in server a
nd browser. In (Feldman,
2007) mobile agent platform
is based on concepts of
Pneuna
that is relatively close to our agent
description and
Soma
that is the execution
environment. In the appro
ach proposed in (Feldman,
2007) Soma hides the differences of browser and
server environment and cr
eates a completely new
application platform for mobile agents. In our
approach standard and we
ll-known HTML5 is the
agent/application platform. In addition the approach
presented in (Feldman, 2007) has not been designed
for pushing agents to agent server when user or
browser is not active or when the agent should find a
new browser to run on.
The basic idea presented in (Yu et al., 2006) is
somewhat similar to our approach, but they do not
use HTML5 as the application platform. For
example, their media player example would fit
nicely to our approach, too, especially if HTML5
media API would be used to implement the player.
A particularly interesting aspect in (Yu et al., 2006)
is self-adaptation and context awareness – in
practice different UI to different devices. It would be
interesting to implement similar behaviour using
web technologies.
The relation between trends in the Internet and in
mobile agents has also been discussed in (Kotz and
Gray, 1999). The paper di
scusses these trends and
forecasts that "within a fe
w years, nearly all major
Internet sites will be capable of hosting and willing
to host some form of mobile code or mobile agents."
This paper has also interesting discussions about
technical and non-technical hurdles of mobile
agents. From the presented technical hurdles using
HTML5 overcomes "standardization and
portability" and to limited extent also "security".
From the non-technical hurdles our approach solves
"Getting ahead of the evolutionary path" because we
use the de-facto HTML5 technology, and "Revenue
and image" has effectively
been eliminated by the
evolution of the Internet and its business models.
6 FUTURE WORK
We are still in initial phase of our work and have
only tested our approach with a limited number of
applications. Although we have proven that the
approach works with th
ese applications, we
anticipate a need to improve
the architecture so that
development of new agents becomes easier. We
need to develop new applications and collect
HTML5Agents-MobileAgentsfortheWeb
43