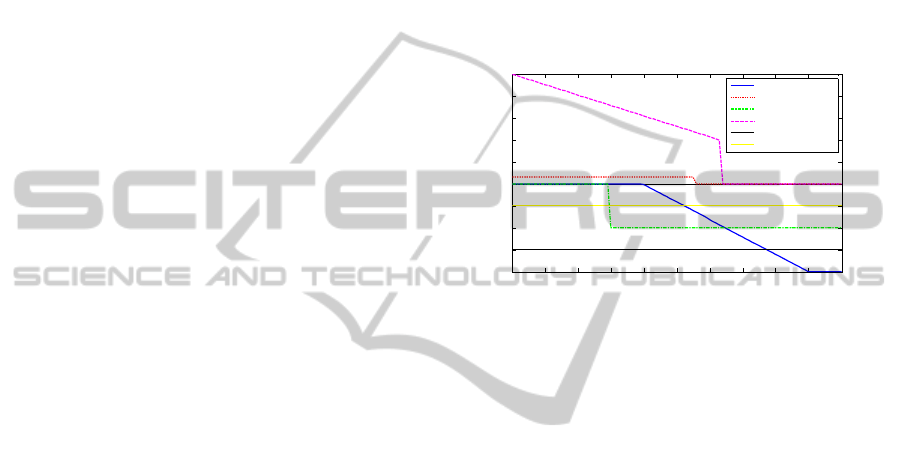 behaviour (Li, Poulton and James, 2010). Reactivity
is the agent's cap
ability to react timely to change
within its environment that needs for real-time
control functions in smart grids such as coordinated
voltage regulation (Nguyen, Myrzik, and Kling,
2008), or power flow management (Nguyen, Kling,
and Myrzik, 2009). Sociality is the agent's capability
to interact with other intelligent agents that is
preferred for Microgrid applications (Dimeas and
Hatziargyriou, 2005), balancing a local area network
(Kok, 2011), or large-scale integration of DER units
in Virtual Power Plants (Hommelberg, Warmer,
Kamphuis, Kok, and Schaeffer, 2007). The state-of-
the-art utilisations of this technology in SEG exploit
mainly reactive and so
cial capabilities of the
intelligence agent.
Though proactivity is the most important
behaviour to be driven by a set of tendencies, it has
not been considered thoroughly in SEG's
applications. This fact limits distributed intelligence
to achieve only near real-time control functions and
local optimisation.
2.2 Market Optimisation
2.2.1
Very Short-term Forecasting
Very short-term forecasting is expected to alleviate
the consequences of uncertainty from active small-
scale producers and consumers. Over- or under-
forecasting the wind power
generation has different
consequences on the value of wind power generation
in power system (Ortega-Vazquez and Kirschen,
2010). Forecasting tool,
therefore, is crucial
functional block to predict the stochastic behaviour
of involved actors. With capability of mapping non-
linear input-output relations, artificial neural
network (ANN) based models are widely accepted
for enabling very-short
forecasting tools (Peng,
Hubele and Karady, 1992). With high integration of
renewable energy, on-line training with mutual
information of input data selection is desired to
reduce forecasting error.
2.2.2
Real-time and Scalable Market
Power supply and demand matching is a continuous
system-wide problem that must be solved at all
times. Until now this matching process has been
centrally organised, based on generators which
follow the passive loads in a coordinated way. With
a massive amount of intermittent power sources and
more stochastic patterns of new forms of load, the
uncertainty increases significantly. The
PowerMatcher concept, for instance, is an
application of agent-based technology for power
matching via a bottom-up market approach (ECN,
n.d.). Similar approach with additional capability for
taking also network congestion into account has
been presented in (Greunsven, Veldman, Nguyen,
Slootweg and Kamphuis, 2012). The principle of
this application is that software agents connected to
electricity generating or consuming devices are
involved in an electronic market that also contains
an aggregator, who determines the market
equilibrium between demand and supply via pooling
or an event based mechanism.
Figure 4: Example of bidding curves for power supply-
demand matching.
2.3 System Optimisation
Consideration of the interrelated problems of both
network and market optimisation in a dual way leads
to conflicting interests between the actors involved.
The elaboration of these issues is novel and not
considered in most research works. To achieve an
overall optimal performance of the supply system,
priori knowledge about system states and market
trends will be exploited and suitable strategies for
allocating capacities from the resources will be
formulated via the agen
t-based platform. One
possibility to achieve optimisation of dual-objectives
is the utilisation of game theory. A combination of a
multi-agent model and game theory to resolve
coalition formation in multilateral trade was
mentioned (Yeung, Poon and Wu, 1999) - (Saad,
Han and Poor, 2011). In a preliminary study, mainly
cooperative game theory to dedicated conflicting
problems in SEG has been developed.
A more generic method needs to be developed
for dealing with complete aspects to help system
overcome local optimisation traps to achieve global
ones. Developed algorithms must take dynamic
characteristics and constraints of the physical grid
into account. Performances
of these algorithms will
be compared with conventional optimal power flow
results in term of dynamic and fast event-based
responses.
0
0.1

0.2

0.3

0.4

0.5

0.6

0.7

0.8

0.9
1
-2000
-1500
-1000
-500
0
500
1000
1500
2000
2500
Price (
λ
) [p.u.]
Power (P) [W]
Device agents bid curves
Fossil Fuel Agent
Freezer agent
CHP agent
Heat Pump Agent
Wind turbine agent
PV agent
RoleofProactiveBehaviourEnabledbyAdvancedComputationalIntelligenceandICTinSmartEnergyGrids
85