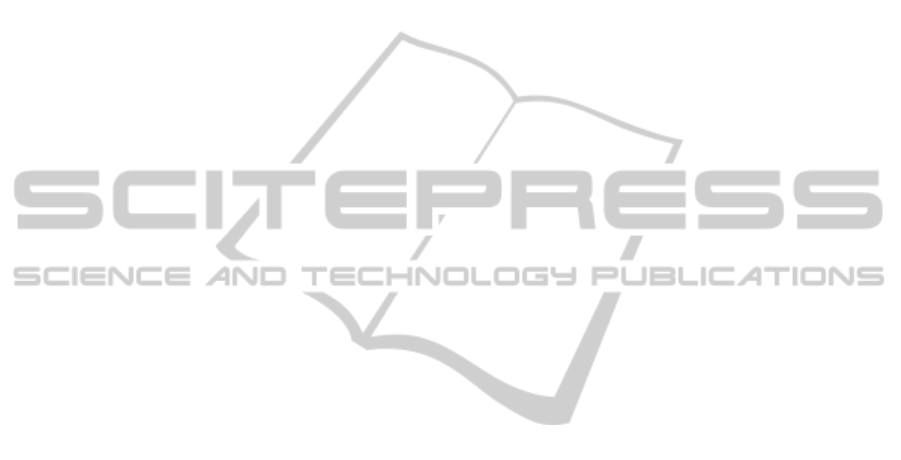 settlement throughout the country (Ministry of
Fisheries and Agriculture, 2006).
Considering the aforementioned objectives, new
policies for managing the fisheries have to be
assessed in the three dimensions of sustainability;
economic, environmental and social. In this paper
we present a hybrid-simulation framework to assess
the impact of changing th
e ratio between cod quota
allocated to vessels with longlines and bottom
trawls. It makes use of
conventional bio-economic
models, discrete event modelling (DES) and
provides a framework fo
r simulating life cycle
assessment (LCA) for a cod fishery. The model was
constructed in AnyLogic and consists of two
models; a system dynamics model describing the
biological aspect of the fishery and a discrete event
model for fishing activities.
1.3 Fisheries Models
Most simulation research in fisheries management is
based on continuous multi-parameter models. Tools
that have been used previously for assisting in
fisheries management are for example the multi-
parameter models FLR (Fisheries Library for R) and
EcoSim. The FLR framework is a development
effort directed towards th
e evaluation of fisheries
management strategies (Kell et al., 2007). Ecopath
with EcoSim (EwE) is an ecosystem modelling
software suite that allows for spatial and temporal
modelling for exploring impact and placement of
protected areas and policy assessment. It is probably
the best known ecosystem model and has been
applied widely in fisheries around the world.
Atlantis (Fulton et al., 2011) is a modelling
framework developed to evaluate ecosystem based
management strategies. It consists of a number of
different linked modules: biophysical, industry and
socioeconomic, monitoring and assessment.
Many other modelling frameworks exist
including Gadget (Begley, 2004) and BEMMFISH
(Arnason, R. and Koholka, 2003
).
Most of these modelling frameworks allow for
great details in the biological aspect of fisheries
modelling but may lack overview in the three
aforementioned dimensions of sustainability. The
need for holistic modelling in fisheries has been
emphasized (Dudley, 2008). System Dynamics
(SD) is a good tool for creating holistic models and
understanding how things affect one another.
Dudley (2008) has demonstrated the benefits of
using SD for modelling fisheries and represented a
framework that can be adap
ted to most fisheries. A
number of system dynamics models in fisheries
exist. A SD model of individual transferable quota
system was constructed in order to differentiate ITQ
from total allowable catch
effects and identify areas
where policy changes and management
improvements may be mo
st effective (Garrity,
2011). Other SD models include a model for the
management of the Manila clam, a shellfish fishery
in the Bay of Arcachon in
France (Bald et al., 2009),
a model of the management of the gooseneck
barnacle in the marine reserve of Gaztelugtxe in
Northern Spain (Bald et
al., 2006) and a SD model
of the Barents Sea capelin (Yndestad, 2002).
Finally, a hybrid model combining SD and agent
based modelling has been constructed for
understanding competition and cooperation between
fishers (Bendor et al., 2009).
1.4
Combining DES and LCA
Life Cycle Assessment (LCA) standardized by ISO
14040:2006 and 14044:2006 (Finnveden et al.,
2009) is by far the most commonly used analysis
method for evaluation of environmental footprint.
LCA, however, holds drawbacks, which reduce its
preciseness and limit its value for producing reliable
results. The main associated problems with
traditional LCA analyses are
(Reap J. et al., 2003)

Use lumped parameters and site-independent
models.

Static in nature and disregard the dynamic
behaviour of industrial and ecological systems.

Focuses only on environmental considerations, not
economic or social aspects.
Hence, it can be beneficial to complement LCA
with other analysis tools, in order to effectively
combine environmental and economic analysis. An
example of such a combination is discrete event
simulation (DES) and LCA. Various different
examples of successful LCA-DES combinations
have been carried out and presented before (Thiede
et al., 2011), (Heilala, J. et al., 2009), (Solding, P. et
al, 2009); (Wohlgemuth et al., 2006).
2 BOTTOM TRAWLERS
VS. LONGLINERS
Nowadays most of the Icelandic cod is captured in
bottom trawls or with longlines. Use of gillnets used
to be more widespread than of longlines but that has
AssessingtheImpactofPolicyChangesintheIcelandicCodFisheryusingaHybridSimulationModel
295