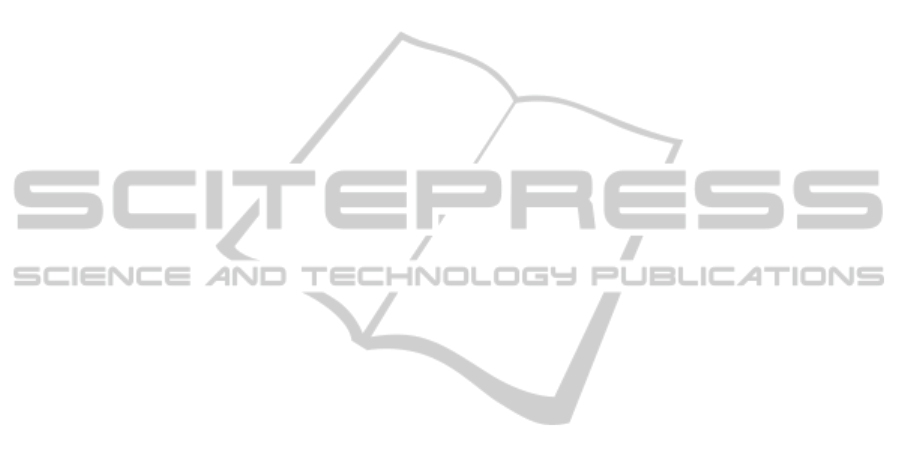 4.1 Categories
In this study, we focused on how the organizations
targeted and sought to achieve the quality
characteristics that they
deemed to be most
important for their respective applications. The
analysis started with read
ing through the transcribed
interviews for each organization. This was
accompanied by making open codes, and writing
memos corresponding to the codes. On a separate
document, high level notes were taken highlighting
the impressions about each organization. The
impressions were noted either as text, or in reference
to codes. As an example, we made this reference to a
code for Case A: "Check the code: organizational
change/perceiving future changes – about user
experience being important for the end user, and
therefore organizations need to bring that value to
the user."
We wrote the following text as part of the
impressions about Case D: "They are developing a
cloud application. The team is using their previous
experiences in deciding the development approach
and tools. The development was taking place at the
time of the interview. Changes [in requirements]
would be addressed along the way. Quality
requirements are adju
sted according to the
performance of the end pr
oduct/service and the user
preferences. Quality section in the interview has
interesting views."
The impressions noted about the organizations
were then used to identify the potential categories.
For example, from the impressions mentioned
above, some of the identified potential categories
were "Type of developed application",
"Development approach and tools", "Choice of
development approach and tools" and "Perceived
future changes". After identifying the potential
categories, we went through the text again - during
which we refined the categories based on the
similarities, correlations and differences among
them. The process of deriving the final categories
was iterative, mostly focusing on finding the
common thing that the organizations were talking
about, and establishing how it related to other
categories. As the end result, we derived the
categories that affected how the important quality
characteristics were targeted and achieved. Table 2
summarizes the categorie
s together with their
associated observations and information.
The category
life-cycle model and tools

describes
the software development life-cycle model and the
tools used to produce the software. Waterfall,
incremental and agile development featured among
the organizations, with agile development being the
most popular. The development tools used were
mainly chosen due to the developers' familiarity
with them, which helped the organizations to focus
on the development rather than using valued time in
learning to use new tools.
The category
software application
describes the
type of software that the organization is developing.
Case A provided a cloud-based test management
solution and Case B provided a software product,
which was installed in different devices and
controlled via a web console. One of Case B's
customers was running the software product in their
(customer's) private cloud. Case C provided
infrastructure-as-a-service (IaaS) in the cloud and
Case D was developing a software-as-a-service
(SaaS) application. Case E provided web-based
services, which were not necessarily running in the
cloud, but the organization made use of cloud
platforms to host some of their application services.
The category
important quality characteristics
focused on those aspects of quality that the
organizations found to be must-haves, or at least
most desirable in their respective software
applications. There are different definitions of
quality in literature. Gavin (1984) gives five
definitions for quality based on transcendent,
product-based, user-based, manufacturer-based and
value-based views. In this study, we concentrate on
quality from the perspec
tive of the software
application provider, and specifically, the developer
point-of-view. These quality
characteristics were
likely those that were considered to "make or break"
the application with obvious economic impacts on
the organization's business. The important quality
characteristics mostly included functional suitability,
reliability, and security. Overall, usability featured in
all organizations as an important quality
characteristic.
In the category
practices for handling
requirements,
we observed that the organizations
had different mechanisms for handling the
requirements. Even though different, these
mechanisms were geared at facilitating a smooth
development process that would aid in achieving the
targeted quality charact
eristics. There was a
difference in the origin of the requirements. The
initial set of requirements for Cases B, C, and D
came from the developers themselves, stemming
from their previous experiences, needs and ideas for
the software. Once the software had been rolled out
to customers, the user feedback was used for
ICSOFT2013-8thInternationalJointConferenceonSoftwareTechnologies
306