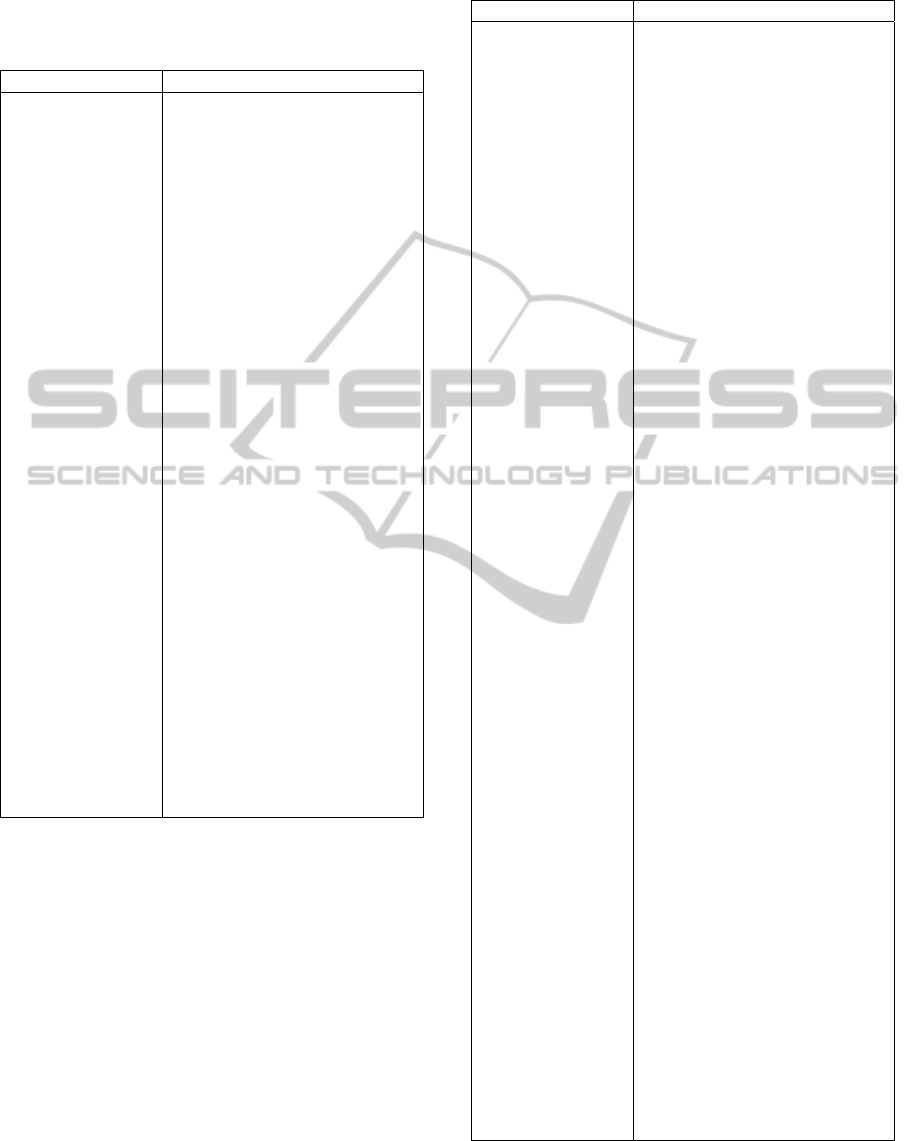 this application is outside the scope of this paper and
it is explain in (Walisadeera et al., 2013).
Table 1: Farmers' Context.
Farmers' Context
Description
Farm
environment
Types of farmers
Preferences of
farmer
Information about environment
based on location of farm such
as elevation, rainfall, climate
zone, temperature, humidity,
sunlight, wind, soil, etc.
Farmers are classified based on
size of the cultivated farm land
and estimated budget for
cultivation. There are two main
categories; garden farmers and
commercial farmers.
Commercial farmers can be
further categorized as small-
scale farmers, medium-scale
farmers and large-scale farmers.
Farmers have their own
preferences such as high
yielding varieties, preferred
control methods and fertilizers,
low labour cost crops, high
disease and insect resistance
crops, desired farming systems
and techniques, etc.
Required information varies
based on different stages of the
farming lifecycle. To improve
overall decision making in
farming, we have defined six
farming stages covering all
required information needed by
farmers (refer Table 2 for
farming stages).
Recently, ontologies have emerged as a major
research topic in Information Systems. The term
'ontology' originated from philosophy and it is
concerned with the study of being or existence
(Rumbaugh et al., 1991). Lately, it has been used in
computer science and information science, for
knowledge engineering, databases and software
engineering purposes to define models that specify
reusable components and the relationships among
them. Ontologies are wide
ly used for different
purposes (e.g. natural language processing,
knowledge management, e-commerce, intelligent
integration of information and semantic web) in
different communities (e.g. knowledge engineering
and databases).
An Ontology provides a structured view of
domain knowledge and act as a repository of
Table 2: Farming Stages.
Farming Stages
Description
Crop Selection
Pre-Sowing
Growing
Harvesting
Post-Harvesting
Most important decision is
deciding which crops to grow
.
Crop selection is a complex
process because it depends on
many factors. The environmental
factors mostly affected this
selection. Features of a crop,
farmer preferences, available
resources and market demand
are other key determinant for
this decision.
Refers to
preparing the field
for
selected crops. At this stage
farmer needs information on
quality agricultural inputs such
as seed rate, plant nutrients and
fertilizing, irrigation facilities
and new techniques for field
preparation.
Includes information related to
managing the crop through its
growing stages
. Information on
planting methods, good
agriculture practices (traditional
and new technology), common
growing problems and their
management is required in this
stage.
At this stage farmer needs
information related to
harvesting
such as maturity time, methods
and techniques of harvesting,
expected average yield, labour
cost and total production cost for
cultivation.
Refers to proper
handling after
information includes post
harvesting issues and
management, packing, grading,
storing, standardization,
transportation and value added
products.
Refers to
preparation for selling
.
Mainly includes information
related to the market such as
market prices, consumer
behaviour and demand, and
alternative marketing channels.
concepts in the domain. This structured view is
essential to facilitate knowledge sharing, knowledge
DesigningaFarmerCentredOntologyforSocialLifeNetwork
239