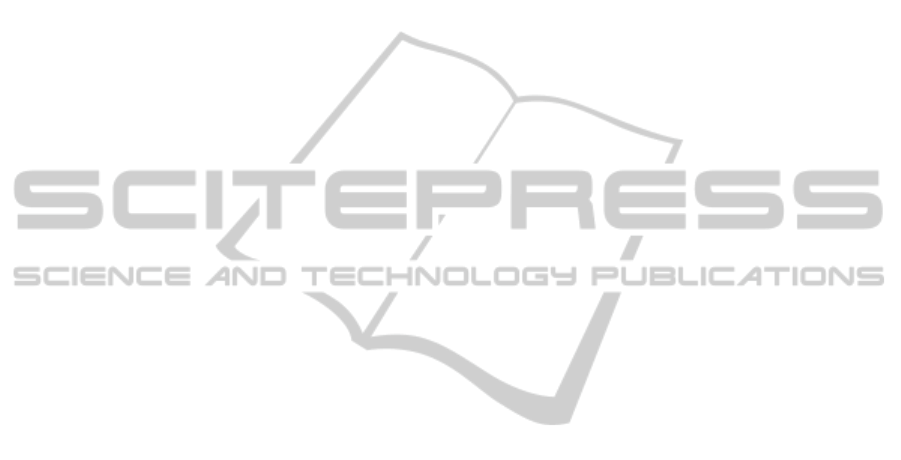 measurement planning without the support of
knowledge is still non-formatted and uncertain.
In order to integrate, express and take full reuse
of historical knowledge for measurement planning, a
multi-dimensional measuring process model based
on general measurement space (GMS) is proposed; a
methodology, which is based on the GMS model, for
formally integrating and expressing different meas-
uring process knowledge is presented and discussed;
finally, the GMS's characteristics matrix is con-
structed, providing a feasib
le way of evaluating and
optimizing measurement plans based on measuring
process knowledge in digital manufacturing.
2 RELATED WORKS
Digital measurement has become one of the critical
parts in product manufacturing. As a typical applica-
tion form, instruments such as laser trackers, iGPS
are largely used to measure the position and orienta-
tion of complex components during fixtures calibra-
tion and components alignment by Boeing, Airbus,
Rolls-Royce and other manufacturers (Yu et al.,
2009; Jamshidi et al., 2010; Jayaweera et al., 2010).
Widely employments accumulate a large amount of
process information for knowledge integration.
In order to optimize the measurement plan of
measuring process, the majo
rity of the research fo-
cuses on precision analysis of digital instruments.
Jamshidi analyzed the relation between precision
and physical structure of
iGPS, and compared it with
laser tracker (Muelaner et al., 2009; Maisano et al.,
2008; Maisano et al., 2009); Muelaner proposed a
mathematical model for ev
aluating the measurement
capability of different instruments, which is able to
support instruments selection for measurement plan-
ning (Muelaner et al., 2010); on the basis of princi-
ple analysis, Du conducted research on how the pre-
cision of iGPS measurement
field is affected by its
deployment types (Du et al., 2012); Wang investi-
gated the error sources of large scale measurement
system and proposed a method for uncertainty eval-
uation (Wang et al., 2013). Their research usually
established the link between precision and parame-
ters of special instrument, but was only a part of the
measuring process and no
t enough for measurement
planning.
For knowledge management of measuring pro-
cess, Maropoulos firstly proposed the concept of
metrology process model; then, Chen used a meas-
urement field model with input and output to express
digital measuring process, an
alyzed its attributes and
discussed the evaluation method (Chen and Du,
2012); subsequently, a measurement data model
based on key measurement characteristics was given
for unifying, storing and managing the measuring
process data in product asse
mbly (Chen et al., 2012).
In summary, the research and applications of dig-
ital metrologies are still in their infancy; the lack of
investigations on measuring process model and
knowledge integration causes that, a large amount of
historical information and knowledge of measuring
process haven't been fully discovered, managed and
reused. Knowledge modeling and expressing of
measuring process have
significances for measure-
ment planning and the development of digital me-
trologies and in manufacturing.
3 MEASURING PROCESS
MODELING
Measuring process consists of four stages: demands
analysis, process planning, data collection and result
output; in order to describe the knowledge in meas-
uring process, firstly, based on object-oriented mod-
eling method, measurement space is considered as
an object with functions
of receiving demands, exe-
cuting commands and outputting result; therefore,
measuring process can be described by behaviours
of measurement space, and
knowledge in the process
can be described by attributes of measurement
space.
Traditional measurement space is considered to
be a three-dimensional geom
etrical space; in order to
embed the manifold elements, general measurement
space (GMS) model with th
ree dimensions and ten
attributes is proposed as
the model of measuring
process, as shown in Figure 1; it integrates five key
elements in measuring pr
ocess: people, machine,
material, method and environment.
Attributes of GMS are classified into three di-
mensions: 1) Physical dimension includes basic el-
ements of measuring process such as instrument,
target and environment; 2) Process dimension in-
cludes additional elements for implementing the
behaviours and functions of measuring process, such
as plan, operator and algor
ithm; 3) Characteristics
dimension includes key characteristics of measuring
process, such as accuracy, cost, time and range,
these characteristics are dete
rmined by attributes of
physical and process dimensions. Based on the GMS
model, measuring process can be described as: de-
mands inputting, GMS constr
ucting, characteristics
evaluating and result outputting.
KDIR2013-InternationalConferenceonKnowledgeDiscoveryandInformationRetrieval
68