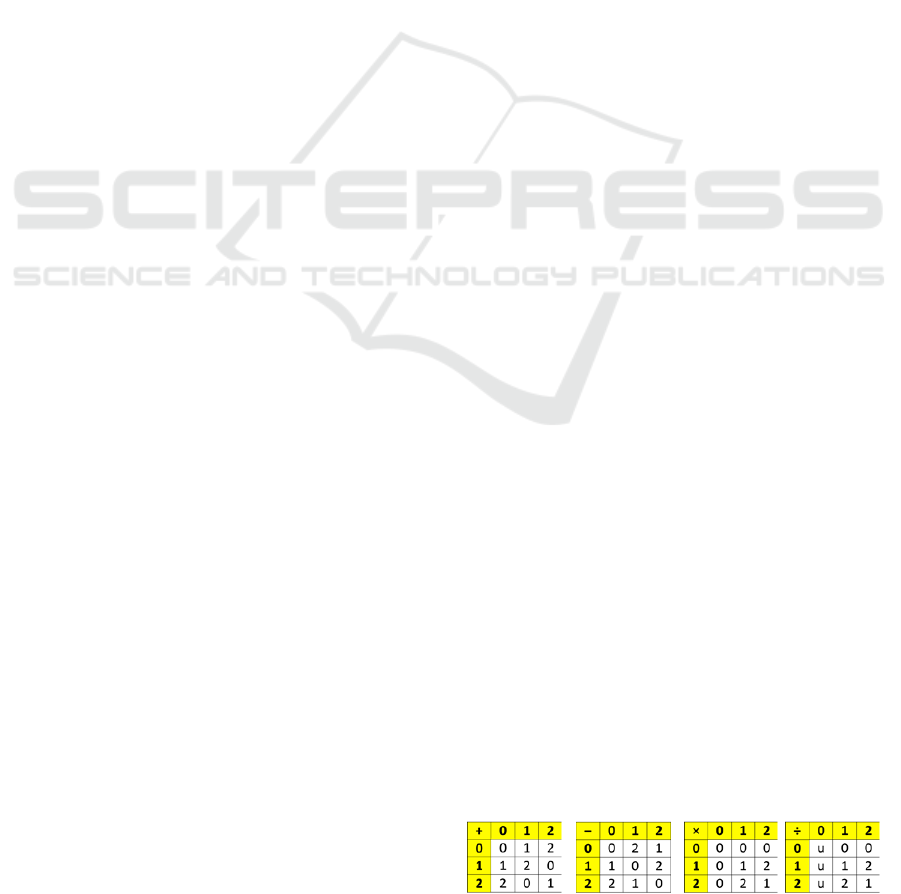 Efficient Characteristic 3 Galois Field Operations
for Elliptic Curve Cryptographic Applications
Vinay S. Iyengar
Oregon Episcopal School, Po
rtland, Oregon, U.S.A.
Keywords:
Public-Key Cryptography, Ellip
tic Curves, Characteristic 3 Galois Field Theory, Performance Optimization.
Abstract:
Galois fields of characteristic 3, where the number of field elements is a power of 3, have a distinctive
application in building high-security elliptic curve cr
yptosystems. However, they are not typically used
because of their relative inefficiency in computing polynomial operations when compared to conventional
prime or binary Galois fields. The purpose of this re
search was to design and implement characteristic 3
Galois field arithmetic algorithms with greater overall
efficiency than those presented in current literature,
and to evaluate their applicability to elliptic curve cryptography. The algorithms designed were tested in a
C++ program and using a mapping of field element l
ogarithms, were able to simplify the operations of
polynomial multiplica
tion, division, cubing, and modular reduction to that of basic integer operations. They
thus significantly outperformed the
best characteristic 3 algorithms presented in literature and showed a
distinct applicability to elliptic curve cryptosystems. In
conclusion, this research presents a novel method of
optimizing the performance of characteristic 3 Galois
fields and has major implic

ations for the field of
elliptic curve cryptography.
1 INTRODUCTION
Galois fields are one of the most important concepts
in abstract algebra and
have a wide variety of
applications towards public-key cryptography
algorithms. In essence, a Galois field is an algebraic
structure with established operations for addition,
subtraction, multiplication, and division that satisfy
the requirements for an Abelian group. This means
that operations follow the five axioms of an Abelian
group: closure, associativity, commutativity, having
an identity element and an inverse element. Most
importantly, Galois fields have a finite number of
elements in them (Lidl and Niederreiter, 1997).
The most efficient and secure cryptographic
system in use today is known as elliptic curve
cryptography (ECC) and is based on the concept of
elliptic curves built over Galois fields (Koblitz,
1987). Our research in particular investigates elliptic
curves built over Galois fields of characteristic 3.
This essentially means that
the number of elements
in the field is a power of 3, allowing the Galois field
k
)
, where
k
represents the
degree of the field. In Galo
is fields of characteristic
3, elements of the field are represented as
polynomials modulo a primitive polynomial
p(x)

,
where coefficients are eith
er 0, 1, or 2 (Lidl and
Niederreiter, 1994). A primitive polynomial is an
irreducible polynomial of degree
k - 1
that can
generate all elements of the field. After the research
of Galbraith (2001), it is well accepted that
characteristic 3 curves provide more security and
bandwidth efficiency than
conventional binary or
prime curves. In addition, they are highly applicable
towards building pairing-based cryptosystems, an
attractive option for identity-based cryptographic
algorithms (Boneh and Franklin, 2001). However,
according to the canonical
research of Harrison,
Page and Smart (2002), they are not efficient enough
despite their potential. This is mainly because
characteristic 3 polynomial arithmetic operations
rely on base 3 arithmetic (Figure 1) and are much
slower compared to prime and binary Galois fields,
which utilize the computer's inherent hardware
arithmetic.
Figure 1: Base 3 Arithmetic.
Elliptic curves are a type of equation of the
2
= x
3
+ ax + b
, where
a

and

b

represent
integer coefficients. When elliptic curves are built
531
S. Iyengar V..
Efficient Characteristic 3 Galois Field Operations for Elliptic Curve Cryptographic Applications.
DOI: 10.5220/0004528105310536
In
Proceedings of the 10th International Conference on Security and Cryptography
(SECRYPT-2013), pages 531-536
ISBN: 978-989-8565-73-0
Copyright
c

2013 SCITEPRESS (Science and Technology Publications, Lda.)