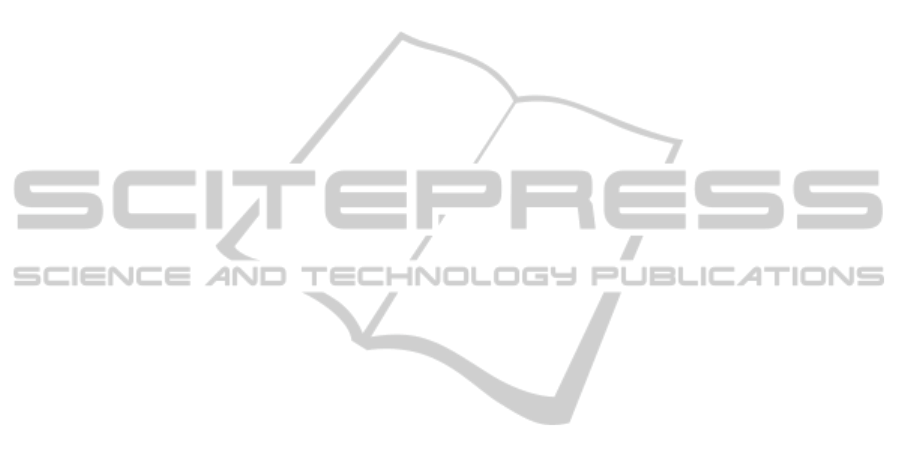 blood glucose level, data is saved into WaveSense
application automatically (IBG Star, 2012). But this
meter and its strips are available only in certain
countries; which limit the use of this application.
Vree, also developed for Apple iOS, is
specialized for type II diabetes. This application has
multiple functions; such as glucose, medication and
nutrition tracking; focusing only on type II that none
of its functions and calculations can be used for
other types of diabetes (Vree, 2012).
On the other hand, the only application in the
Android Market is used to get patients information,
manage diabetes by tracking food, medication,
weight and level of glucose in the blood. By tracking
these values, the applica
tion can display a summary
of the patient's progress and hence archive it (On
Track, 2012). Yet, it is limited in other
functionalities such as connectivity.
3.2 Healthcare Cloud-based Systems
As for e-health systems currently implemented,
examples include @HealthCloud, Health Cloud
eXchange (HCX), Emergency Medical System
(EMS), and HealthATM kiosks.
@HealthCloud is a mobile healthcare
information management system that is based on
cloud computing and Android OS. It enables
healthcare data storage, update and retrieval using
Amazon Simple Storage Service (S3). It includes a
PHR application that acquires and displays patient
records stored in the cl
oud and a medical imaging
module to display medical images on the device. It
also supports native multi-touch technology which
allows better manipulation of medical images
(Doukas, Pliakas and Maglogiannis, 2010).
HCX is a distributed web
interactive system that
provides a private cloud-bas
ed data sharing service
allowing dynamic discovery of various health
records and related healthcare services. HCX allows
sharing health records
between different EHR
systems and. automatically adapts to changes in the
cloud (Mohammed and Fiaidhi, 2010).
EMS is an emergency medical system that
accesses PHRs of patients and helps provide timely
care. It mainly consists of PHRs platform, EMS
application and a Portal to access the former. EMS
uses a private cloud to stor
e data; in particular PHR
data. It helps facilitate a timely access of relevant
information by authorized people in case of
emergencies (Koufi, Malamateniou and
Vassilacopoulos, 2010).
HealthATM kiosks are developed for patients to
manage their own personal health data, integrating
services from Google's cloud environment. It
provides timely access to relevant health data to
patients and strengthens patients' communication
with their care providers (Botts, Thoms, Noamani
and Horan, 2010). Although, it is also a cost
effective solution of personal healthcare
management; as they makes use of cloud computing
architectures, the system
s currently cannot be
directly handed over to patients; for constant
training, outreach and
education are must.
3.3 Discussion
The currently available mobile-based management
systems are limited for personal use only with
scattered capabilities that are not all gathered in one
application. In general, they are designed to help a
single patient to manage his own diabetic case
without any interaction with their physicians.
On the other hand, the cloud-based medical
systems are designed to maximize the benefits of
treatment and emergency intervention enhancement,
while others to save and share healthcare records
especially big sized data
like medical images. Some
of them leverage the benefit of combining the
mobile and Cloud. However, this benefit has not
been yet interactively addressed through an
integrated framework that
provides a practical
solution for a real medical pr
oblem as we do in this
paper.
4 PROPOSED FRAMEWORK
In this section, we present a comprehensive
framework that incorporates Mobile Computing and
Cloud computing with data mining techniques to
efficiently provide a smar
t healthcare system for
fully supporting Diabetes.
With the fast and widely available smart phones,
the mobile application is meant to be a fast and
portable efficient connection method between the
system and the citizens. Through such
communication channel, data can be vastly and
vigorously acquired from the field at low expenses
and in a parallel manner along the country saving
valuable time and resources. Guiding instructions
are also delivered to th
e citizens anywhere and
anytime through the same channel. In addition,
diabetes medical sensors are integrated with the
mobile to help the patient in his daily life.
The Cloud, on the other hand, is incorporated to
accommodate the system due to its broadly 24/7
availability, scalability, and huge storage capabilities
HEALTHINF2014-InternationalConferenceonHealthInformatics
264