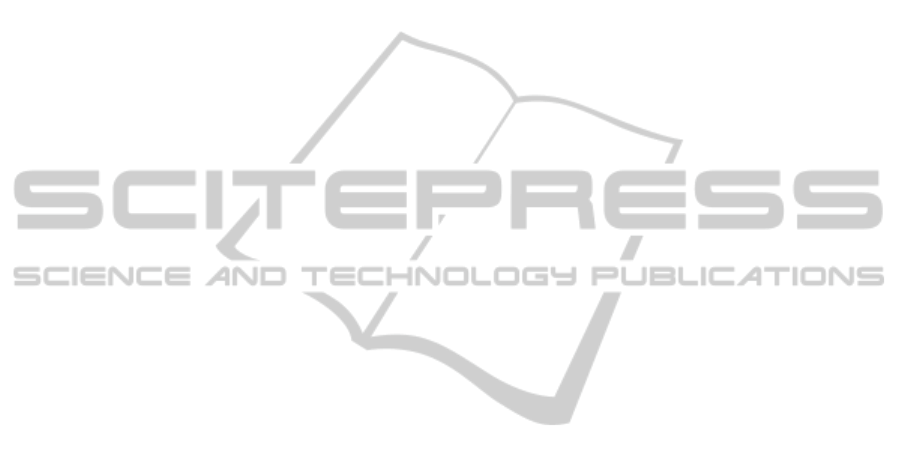 values has not been carried
out either. The selection
of frequency bands from the signal espectrum aims
to better extract the signal features for the classes
studied. Another contribuition of this work is related
to the types of classes, i.e., the models are able to
classify parts with high surface roughness values (no
visible burn), visible burn occurrence and normal
operation. It is worth mentioning that thermal
sensing, such as thermocouples inserted in the
workpiece or tool
could produce good results as well
in monitoring the grinding burn. However, such
techniques are genererally invasive and, therefore,
infeaseble in most practical implementation.
2 NEURAL NETWORKS
IN MACHINING PROCESSES
According to (Teti et al. 2010), in monitoring and
control activities for modern untended
manufacturing systems, the role of cognitive
computing methods employed in the implementation
of intelligent sensors and sensorial systems is
fundamental. A conspicuous number of schemes,
techniques and paradigms ha
ve been used to develop
decision-making support systems functional to come
to a conclusion on machining process conditions
based on sensor signals data features. The cognitive
paradigms most frequently employed for the purpose
of sensor monitoring in machining, including neural
networks, fuzzy logic, genetic algorithms and hybrid
systems able to combine the capabilities of the
various cognitive methods.
Artificial neural networ
ks (ANNs) are adaptive
and have parallel information-processing structures
with the ability to build functional relationships
between data and to provide powerful tools for
nonlinear, multidimensional interpolations. This
aspect of neural networks makes it possible to
capture and interpret the existing highly complex
nonlinear relationships between input and output
parameters that are frequently poorly understood. An
ANN is a system consisting of processing elements
(PE) with links between them. A certain
arrangement of the PEs and links produce a certain
ANN model, suitable for certain tasks (Ahmadzadeh
& Lundberg 2013).
Anns have been accepted as a very good tool that
can be applied to many nonlinear problems, where
finding solutions using traditional techniques are
cumbersome or impossible. Examples of applied
areas of nns include robotic
s, control, and system
identification. They have
been successfully used in
condition monitoring and fault diagnosis in
machining processes. These applications have
usually used the pattern recognition approach
combined with the classification ability of anns
(marzi 2008).
Similar work on classification of grinding burn
can be found in (Spadotto et al. 2008), where the
authors perform only the classification of burn
degrees (slight burn, medium burn, severe burn and
non burn) of the part ground by using acoustic
emission and power signals statistics as inputs to the
neural network models. The results were good,
reaching a success rate of 93.5 % for model II,
which employs a statistic named DPO proposed by
(Aguiar et al. 2002), com
posed of the multiplication
between standard deviation of RMS AE and
maximum value of grinding power in the grinding
pass. Another similar work is presented by (Dotto et
al. 2003) in which a neural network model having
the RMS AE and grinding power as inputs is used to
classify burn and non burn condition of the parts
ground. Good response of the model can be
observed in the regions charts, where burning and
non burning occurrence were classified. The
investigation in (Kwak & Ha 2004) proposed a
diagnostic scheme of a grinding states (chatter,
vibration and grinding burn) by the neural network
using power and AE signals. The maximum
successful diagnosis was about 95 %. Other
investigations related to the topic of this work can
also be found. However, none of them has used the
vibration signal as well as verified the condition of
high surface roughness values of the work piece
ground.
3 MATERIALS AND METHODS
3.1 Experiments
The experimental tests were carried out in a surface
grinding machine. Each test consisted of a single
grinding pass across the workpiece length. Preceding
each test, a single-point
diamond dresser performed
the dressing of the grinding wheel. Table 1 shows
the grinding condition of each test.
An acoustic emission sensor and a processing
signal unit, from Sensis manufacturer, model DM-
42, were employed in the tests. Also, a vibration
sensor, model 353B03 and a conditioning signal
unit, from PCB Piezotronic, were used. An
oscilloscope, model DL850, from Yokogawa,
collected both raw signals, at a sampling rate of 2
MHz. The sensors were fixed on the workpiece
holder and tested for good signal sensitivity and
ICAART2014-InternationalConferenceonAgentsandArtificialIntelligence
274