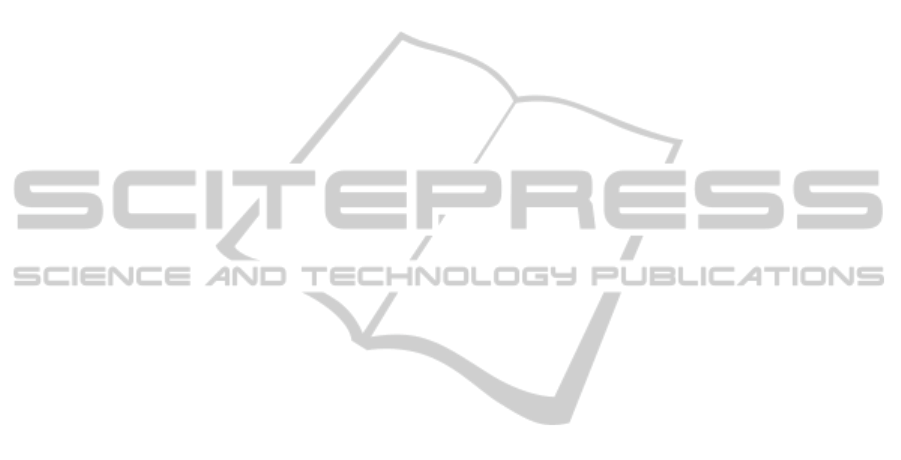 These actions represent adequate behaviour in
standard situations without being underpinned with
knowledge. This corresponds to the
advanced
beginner
position in the Dreyfus & Dreyfus five-
stage-model.
'Operational rules' (middle box in second
column in Figure 2) are – in line with the five- stage-
model – considered a next step in development. The
operational rules are typified by the involvement of
conceptual understanding, though of an operational
type, using concepts that are apparent within the
experienced game environm
ent. An example would
be a learner that acts adequately within the game and
is able to explain why and how he performs in terms
of the game-world. This could be considered
roughly equivalent to the stage of being
competent
within the five-stage-model though this concerns the
game-environment only. Reaching this level requires
the constructing (learning) of operational rules from
experience, and it is presumed to require systematic
and reflective thinking. Constructing these rules may
be stimulated by asking the students questions,
facilitating group discussions and adding tasks that
require the construction and verbalization of such
rules. Operational rules and skilled actions may
transfer from the strict game-environment to other
situations/environments, and this is more likely to
occur the more akin these situations are (Vockell,
2013). For example, from a serious game that
models projectile trajectories, skilled actions and
operational rules may relatively easily transfer to
projectile shooting experiments in classroom, but
less easily to text-book questions on this subject or
the context of satellite trajectories.
The (re)construction of 'theoretical insight'
(lower box in second column in Figure 2), aligns
with both '
competent
within the game-environment'
towards '
competent

in real life'. This splitting-up of
the 'competent stage' in the five-stage-model results
from the fact that experi
ential learning from serious
games involves two realities: the real world and the
game world that simulates it. By its nature,
theoretical insight will formally apply to real-life
situations, since the rules a simulation based serious
game is built upon apply to real world as well. Even
though in many cases the rules underlying the game
are in fact simplified versi
ons of real life rules.
But this equivalence will not be automatically
clear to the learner. Hen
ce, theoretical insight only
principally applies to both the game-world and the
real world. In education, the learner should make
considerable effort to und
erstand and recognize this
difference (transfer) and to achieve a 'competent in
real-life' stage.
Constructing or reconstructing theoretical insight
definitely requires systematic and reflective thinking
as described above, but also making comparisons
with contrasting and/or akin situations and
theoretical points of view. The confrontation with
situations other than the game-environment is
needed; both to help constructing the theoretical
ideas independently from the game-world and to
facilitate transfer to other situations (Vockell, 2013).
The presumed necessity to implement in
classthese reflective of theoretical components as
well as exercises in othe
r learning-environments
than the game-environment, conflicts with the
fundamental importance of flow for gaming and the
use of serious games in education. Put in terms of a
concrete design dilemma: how can we have students
'in the flow' while gaming within the game-
environment as well as active as critical thinkers on
a theoretical level transcending the game-
environment. This seems to connect to a
fundamental design dilemma in inquiry structured or
open education aiming at conceptual development
described by various authors such as Kirschner,
Sweller and Clark (2006) and - for the case of
education on electrical circu
its - Kock et al. (2013).
Once attained, theoretical insight opens up an
avenue to develop towards proficiency with respect
to real-life situations and beyond.
2.3
Learning about Electrical Circuits
Learning problems in electricity have been widely
documented: Over the years remedies have been
suggested to overcome students' conceptual
problems in electricity, but
only with limited success
(Mulhall et al. 2001). The topic is still receiving
attention (for example Engelhardt and Beichner
2004; Hart 2008; Taber et al. 2006; Jaakkola, Nurmi
& Veermans, 2010). Coming to grips with the
scientific concepts in electricity requires an
understanding of the physics involved, which is at
least partly at odds with the everyday experiences
and ways of speaking about electricity (Shipstone
1985; Duit and Schecker, 2007).
A key problem is the development of inadequate
conceptual understanding of various aspects of
electrical circuits and particular persistent
'misconceptions' that students tend to develop. In
Duit's STCSE bibliography on students'
'misconceptions' and conceptual change (Duit,
2009) several hundreds of publications are listed on
learning electricity.
Taconis (2010) has described a hierarchical
building of concepts concer
ning electrical circuits
LearningonElectricalCircuitsWhilePlaying'E&EElectricalEndeavours'-DesignResearchonaSeriousGame
OptimizingforConceptualUnderstanding
7