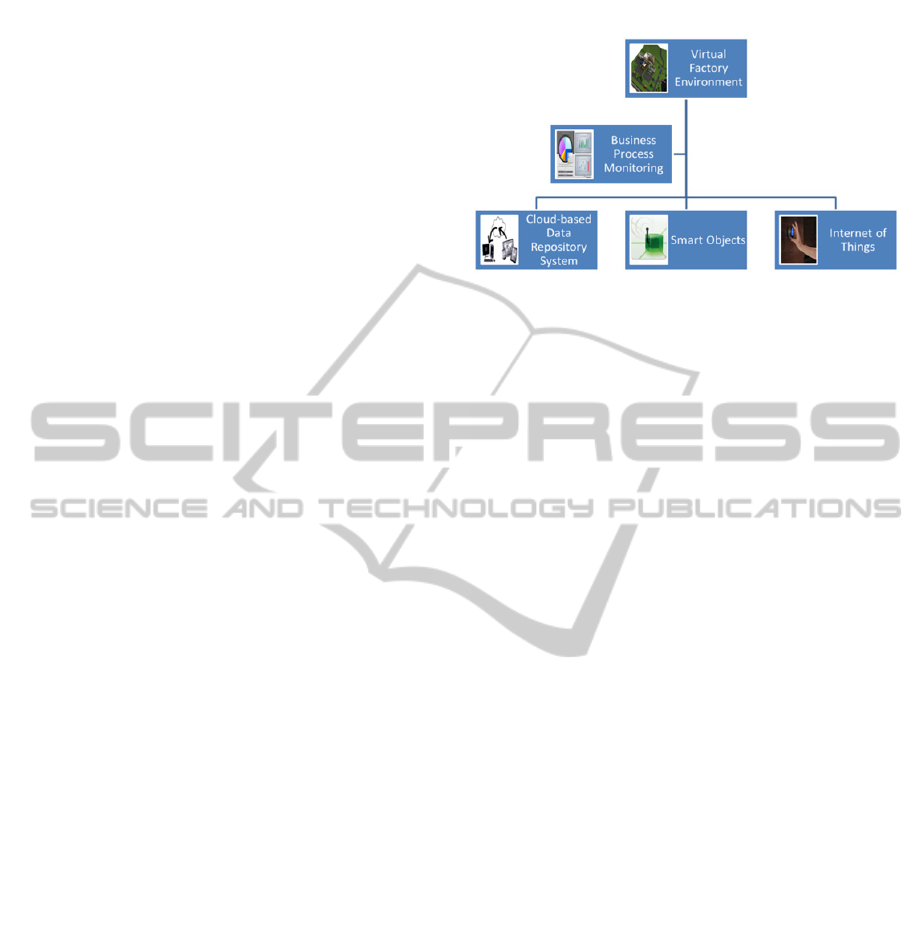 technologies and tools such
as the Internet of Things
(IoT) can support collaborative business processes
monitoring, and (ii) to check how a cloud-based data
repository system can be implemented successfully
to store and retrieve data as used to monitor and
manage collaborative business processes.
2 RESEARCH MODEL
IoT is a topical issue nowadays in the technological
world, which can be successfully implemented to
achieve increased business control through its
sensor-based technologies in
either wired, wireless
or hybrid systems. It is an integrated part of the
future Internet technology
that can be defined as the
dynamic global network infrastructure with self-
configuring capabilities based on standard and
interoperable communication protocols that can be
used as an intelligent interface to business process
monitoring within a VF network.
In addition to the implementation of IoT there is
growing concern within the business community
with storing a maximum amount of VF process
monitored data securely, which can then be retrieved
according to need. This bri
ngs about the necessity to
harness a data storage facility which can easily be
accessed with minimum time and cost. Recently,
researchers have been fo
cusing on the issue of
cloud-based data repository in the form of cloud
manufacturing, cloud computing, cloud-based
information systems and monitoring, etc., which can
easily fulfil the needs of different kinds of
manufacturing data storage and retrieval.
This research particularly emphasizes
investigating the possibilities of how an
implementation of IoT technology and cloud-based
data repository can be realized effectively to monitor
business processes thoroughly. Figure 1 displays the
proposed research model to monitor business
processes in a VF environment.
3 LITERATURE REVIEW
SMEs can achieve manufacturing agility and higher
competiveness through forming collaborative
business networks, where valuable resources,
knowledge and expertise can
be shared for mutual
benefits (Rabelo, 2008). From the SME point of
view, business collaboration is an alternative to
traditional supply chain management, where
companies can enhance their value adding activities
and have better control within the business
domain (Walters and Rainbird, 2007).
Figure 1: The research model.
Business process monitoring can be viewed from the
contribution it makes in adding value to the potential
customer and the alignment and realization of the
strategic business objectives. Process improvement
as achieved through process monitoring will start by
obtaining better understanding of the customers and
their demand on the business. There is a lack of
automated support in process monitoring, which is
mostly an isolated set of activities separated from
the actual process execution. It is critical for
business network partners to monitor and manage
accompanied processes. Various sensor-based
technologies are applied to monitor individual
products or processes (Angeles, 2005; Krastela et
al., 2011; Miorandi et al., 2012), but only limited
research has been performed to monitor processes
within business networks. Most of the research work
in network process monitoring has been done mainly
to identify focused abnormalities in the partner's
premises (such as machine breakdown, labour
unrest, production delay, et
c.) and not necessarily to
obtain information on the processes as a whole
(Hallikas et al., 2004).
With increased awareness of business process
monitoring it needs to be approached holistically and
with the support of technology (Jeston and Nelis,
2008). Recently developed
technologies such as the
Internet of Things and smart objects can successfully
contribute to process monitoring through their
inherent sensor-based approach (Bandyopadhyay
and Sen, 2011). Wireless sensor networks have been
a very promising development in business process
monitoring during the last few years, but there is a
distinct lack of real app
lications in collaborative
networks. This process monitoring is enhanced
through smart technologies
such as RFID tags,
GPRS trackers, smart objects, IoT, etc (Kortuem et
al., 2010).This monitored data needs to be stored and
retrieved within a secured and encrypted database
such as a cloud-based data
repository system. To
SmartCollaborativeProcessesMonitoringinReal-timeBusinessEnvironment-ApplicationsofInternetofThingsand
Cloud-dataRepository
557