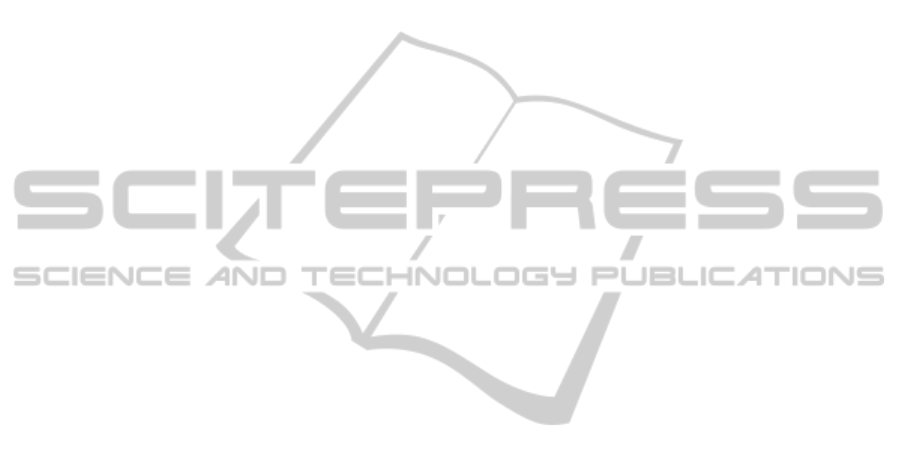 available about them. That is, while several articles
discuss improving the original Rete, there is no
information available how the suggestions align to
the newest Rete versions. Articles suggesting
extensions and improvements are, for instance,
(Berstel 2002), (Ren &
Wang 2008), (Xiao et al.
2009), (Liu et al. 2010) and (Yang et al. 2011). The
Drools rule engine, for example, uses an optimized
Rete version (Drools Expert User Guide 2012).
2.3 Related Work
While there are no publications with a topic similar
to this, several studies have common aspects such as
rules, distribution or knowledge management.
Chen & Wu (2003) introduce OKSA (Open
Knowledge Server Archit
ecture), a framework for
managing knowledge in a network server. The
framework contains service
interfaces for retrieving
semantic data as well as for rule-based reasoning.
Jung et al. (2006) take an information
management approach. They propose an architecture
combining knowledge management and business
process management systems. Three types of
information are stored: process template, process
instance and process related. Knowledge storing and
the business process point of view are relevant also
in this study.
Rajasekar et al. (2006) have researched the
application of rules for the management of data
grids. While data grids are distributed by nature, it is
challenging to make sure that the overall state of the
data remains consistent. In that context, a rule-based
approach is advantageous as it raises the flexibility
of maintaining consistency constraints.
Marin-Perianu and Havinga (2007) have
researched fuzzy logic based reasoning applied to
wireless sensor networks. They have developed D-
FLER, a rule-based fuzzy logic engine. Fuzzy output
is generated from sensor readings which are then fed
into an inference engine. The uncertainty of sensors
is taken into account by pr
ocessing the output of
multiple neighbor sensors simultaneously.
Terfloth et al. (2007) have also performed rule-
related research for wireless sensor networks. They
have developed an architecture called FACTS which
introduces a middleware layer to facilitate sensor-
related programming by raising abstraction level.
Rules are applied to events that arise from sensors.
Grobelny (2008) suggests a rule-based expert
system to assist the composition of service
architectures. The aim is to raise the abstraction
level to enable composition for domain experts that
are not specialized in
software engineering.
Bontchev & Vassileva (2009) have studied the rule-
based approach to create an adaptable e-learning
environment. They have used the Drools rule engine
to enable adaptation based on rules.
Dunkel et al. (2010) in
troduce an event-driven
decision support system. In their paper, sensors
provide data about the traffic situation in an area to
facilitate traffic management. The data is refined to
events that are processed by a rule engine. In the
traffic management context,
real-time constraints are
present and data processing time is limited.
Nalepa et al. (2013) prop
ose an architecture for
business rules modeling. In their approach, the rules
are modeled using BPMN (Business Process Model
and Notation) diagrams. The approach provides
control over in which order rules are applied. In the
flow of a BPMN diagram, each task contains a set of
rules to be executed. The approach aims for easier
ruleset management; the visual representation makes
a complex set of conditions more understandable.
3 PROBLEM DEFINITION
The development approach of this study follows
agile principles. First, a use case analysis was
performed; its results are de
scribed in this chapter.
Second, the actual requirements of the architecture
were formulated as given in chapter 4. Finally, a
prototype was implemented as described in chapter
5. The process is analogous to an agile development
process as explained by Douglass (2009): after a set
of requirements has been specified, a prototype is
implemented. As the prototype might not meet all
the known requirements, any shortcomings will be
taken into account in future development. The key is
to control the development process by enabling
proofing and experimenting design choices through
a tangible implementation.
To begin the discovery of the problem, a use case
analysis was performed with the objective to
recognize actors that are involved in utilizing and
maintaining the operator
performance assessment
system. This enabled defining requirements on the
architecture and the information management.
Actors are involved in the assessment process in
multiple roles; the most essential actors discovered
in the analysis are illustrated in Figure 2.
Trainers
generate feedback reports with the
system. The feedback is then given to machine
operators so that they can improve their way of
working. A feedback report is simply a human-
readable document that
shows a comparison of the
operator's performance to the average in the same
ICEIS2014-16thInternationalConferenceonEnterpriseInformationSystems
442