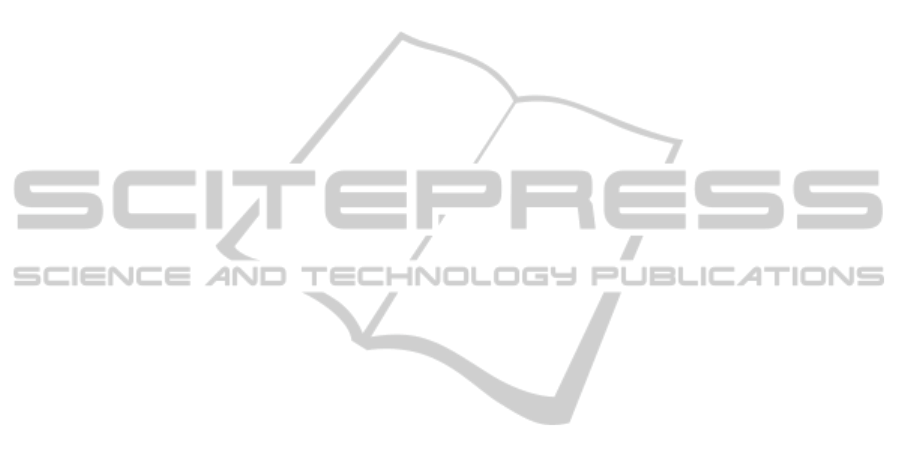 implementation is presented in Section 7. Section 8
is devoted to the conclusions and perspectives.
The related works are presented as follows. First we
discuss the alarm desensitization and alarm
notification in health information systems. Later, we
talk about metrics and its use in fuzzy logic
inference. We finish this section with medical
monitored data and how data is analyzed.
Alarm
desensitization
in healthcare structures is
a fact (Cvach, 2012), backed up with drug
prescription (Phansalkar, et al., 2010). Cvach
proposes a review of research and industrial
literature concerning alert fatigue. She analyses
seventy two papers from three popular medical
databases between 1/1/2000 and 10/1/2011. Cvach
emphasizes that alert desensitization is mainly
caused by high false alarm
rate (Iskio, et al., 2006)
and poor positive predictive values. Between 80%
and 99% of alarms are categorized as being false
positive or useless (Atzema, et al., 2006). These high
rates are often due to preconfigured thresholds. It is
important to let alert systems be operated by end
users because every clinical
environment is unique.
Hence, the ease and flexibility of the alert system in
post-installation is essential (Gee & Moorman,
2011).
Many
notified

alarms are not well understood.
Users are not able to handl
e correctly more than six
alarm signals. Even, experienced caregivers use to
identify only half among all the sounds in an
intensive care unit (Clark, 2006). In hospitals, nurses
handle many devices. Some of them detect the same
alerts disturbing the user. A study over 1327 users
concludes that more than 90% of them agree with
the need to prioritize and easily differentiate audible
and visual alarms (Korniew
icz, et al., 2008). 49% of
respondents find helpful to have a dedicated alert
staff (34% responded neutral). The same study
shows that 49% of respondents do not agree that to
set alert parameters is a complex task (23%
responded as neutral). 72% of respondents agreed
that alarms are adequate to alert staff.
The work presented in (Leung, et al., 2006)
proposes a collaborative recommender system using
the support and confidence (A
grawal, et al., 1993) of
the associations, which are expressed using
fuzzy
logic
. The fuzzy logic allows obtaining more human
understandable results (Zadeh, 1965). So therefore,
fuzzy logic is used in many applications (Bai &
Wang, 2006). In (Alsubhi, et al., 2012), the authors
propose an engine for intrusion detection systems.
Their work prioritizes alerts
based on its score. The
score is calculated using fuzzy logic inference and
six metrics related to the applicability of the alert.
They focus their experiences to find the best-fit
configuration for all the metrics proposed and the
fuzzy logic engine. They concluded that it is not
possible to find a unique
best configuration because
the optimal configuration is different for each
specific dataset.
A multi-parameter
monitoring
device is
presented in (Anliker, et al., 2004). Their device is
connected to a telemedicine center in charge of
making online analysis based on preconfigured rules
generating alerts when abno
rmal events are detected.
The work is a patient-aware alert system since alert
parameters are set using the patient everyday
activities. (Hudson & Cohen, 2010)'s work proposes
a patient-aware system based on Personal Health
Records (PHR). Their algor
ithm compares current to
previous data. Positive changes lead to notifications
whereas negative changes lead to alerts. Trend
templates expressing temporal patterns in multiple
variables are presented in (Haimowitz & Kohane,
1996). Trend templates
express the expected
behaviors of specific disorders. Behaviors as normal
or abnormal are used for diagnosis.
To address the mentioned scientific issues
literature focuses on customization to keep the user
interest (Zwieg, et al., 1998). As a consequence,
users operate the system and understand what they
do (Krall & Sittig, 2002). Hence, untoward events
may be avoided (Wyckoff, 2009). Another issue is
to work with processed data (as linguistic values) to
reduce the number of detected alerts (Borowski, et
al., 2011). Values expre
ssing variable values at
specific instants and variables behaviors (trend) help
to define best alert situations (King, et al., 2012).
The context-aware Tempas system allows its
customization by the users. It introduces the use of
linguistic values to improve alert definition. It
supports the monitoring of variables and trends to
get refined alert scenarios. Tempas advises
appropriate handling of re
peated alerts to avoid
over-notification. It proposes two quality indices to
adapt the system via alert filtering.
The alert customization process involves the target
population, the activation conditions, and the alert
ICEIS2014-16thInternationalConferenceonEnterpriseInformationSystems
82