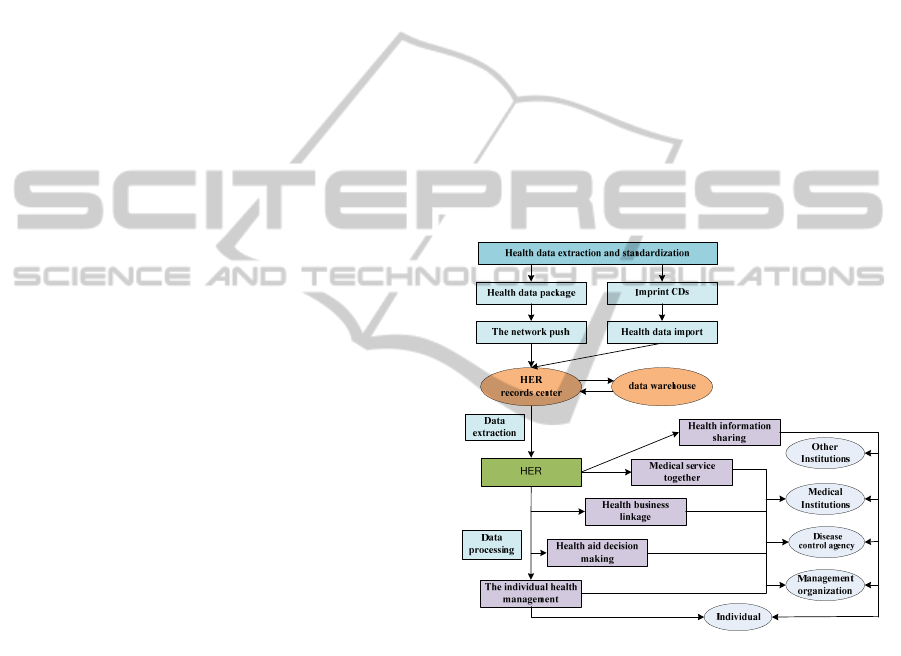 divided into 5 categories, Including ordinary
residents, health management, health responsibility
of doctors, medical staff, organization management
etc.
Ordinary Residents can refer to all of their own
health information from the unified military
electronic health record system terminal, to
strengthen the self health management, develop self
disease prevention measures and improve the self
health level. In orde
r to timely, accurate,
comprehensive grasp of community residents' health
status and health risk factors, health management
staff is set. Using electronic health record
information, they carry out population health status
and health risk factors analysis, population health
risk assessment, disease surveillance and public
health emergencies early
warning, environmental
health inspection, health
maintenance and disease
management supervision. In order to make each
resident health attention falls to real point, health
responsibility doctor role is set. It is the key position
construction, electronic health record and health
management information system for the
management and use of the process and is
responsible for the security range construction of
electronic health records and health management.
The doctors collect and ad
just the basic health
information, physical fitness test, environment
monitoring and other information. They are
responsible for the liability management range
residents health consultation, risk assessment,
guidance and supervision information supplement,
special disease (chronic)
information acquisition and
management etc..In the process of diagnosis and
treatment, the medical staff access to electronic
health records of patients and view the information
of diagnosis and treatment, to the maximum extent
possible to avoid misdiagnosis and missed diagnosis,
to choose the best treatment and improve the
accuracy of diagnosis. Thr
ough regular analysis of
data, the results can be used to provide data support
for the health assessment and early warning of
disease. Through this system, government
management can invoke the required statistical
information and decision support to help managers
more direct, effective, comprehensive, systematic
grasp the overall situation. First, they can assess the
grass-roots health management performance. Second,
they carry out a statistical analysis of the data, from
the overall index (such as the incidence rate of
hospitalization, outpatient, morbidity, position) to
groups of health, to judge the health work attention
key. Third, they predict
emergencies to improve the
timeliness of emergency response.
2.4
Data Collection Process
Application process of EHR system is: collecting
personal relevant health data from existing
information system and other relevant health service
record; then transfer to EHR data center for storage
after standardizing and packing data (Feng et al.,
2010). Afterwards data extracting is implemented
according to relevant principles, and then shaped
EHR is used for health information sharing and
utilization, medical service collaboration, health
operation linkage, health management aid decision
making and personal health administration through
extracting and utilize data. Every authorized agency
and person can have access
to health re

cord through
the system, which realizes health information
sharing and utilization, medical service collaboration,
health operation linkage, health management aid
decision making and personal health administration.
(Figure 3).
Figure 3: Application Process of EHR System.
3 DEPLOYMENT AND
APPLICATION
3.1 System Deployment
EHR supports the architecture model of multistage
platform vertical deploy, and realizes three-level
platform architecture fr
om headquarters to
grassroots unit in the whole country. The 1st and
2nd levels of health record data center are built, and
large-scale data base Oracle and document library is
deployed. Information is sourcing from business
TheDesignandApplicationofanElectronicHealthRecordSystemforDigitalHealthManagement
415