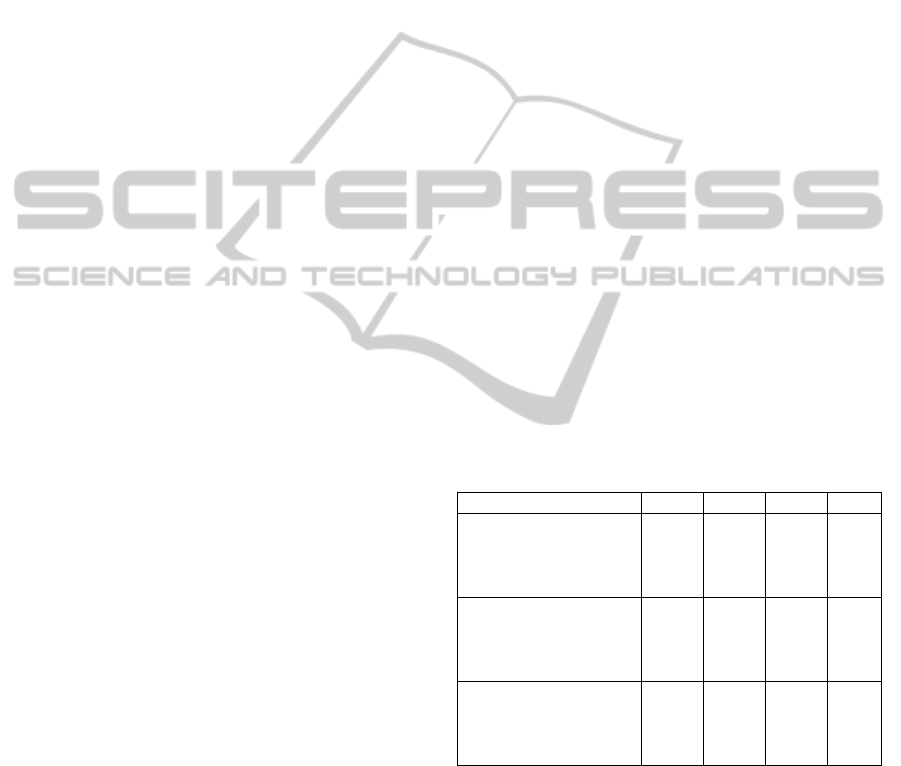 proposed content, and a section "Know More" that
consists of a list of sites with more information
about the subject of study,
and a section "Interactive
Test" that is a form to collect data about the user
behavior on that aspect.
The videos used were selected from the
reliability of its producers, such as universities,
government or broadcast TV programs with affairs
on health and wellness. One of the criteria was that
the protagonists of the videos would be the elderly,
and that the videos used were of short duration to
allow a discussion on the subject after its display.
This strategy makes a personal call to the elderly to
participate actively and think about their behavior in
health maintenance.
4 METHODOLOGY
We used qualitative and quantitative research
methods focusing on the behavioral determinants
adopted by elderly and its influence in their quality
of life. The 12 seniors surveyed were 60 years or
older and attended a course designed for digital
inclusion at the Federal University of Rio Grande do
Sul, Brazil between 2009 and 2012. We proposed a
Quality of Life course during four weeks in
November to December of 2013.
The seniors that have participated of our research
have an age average of 68 years. The group
encountered two times a week to study and discuss
about modules of Active Ageing TV. Each elderly
assisted the proposed videos individually and, after
that, all participants were invited to explain and
discuss with the whole group about what they
learned, what they alread
y do to achieve a healthy
lifestyle and the strategies they used to do that. The
researcher assumed the role of mediator in this
educational practice, and it was created a
participative environment in which everyone felt
comfortable to show his/her ideas (Serbim et. al.,
2012; Sousa and Assis, 2012).
After watching all modules, each subject was
seen separately one per week, seniors were asked to
reflect on their lifestyle. For this we used two
instruments: (1) the "Profile of Individual Life
Style" instrument (Both et. al., 2008) and (2) an
individual semi-structured interview based on the
behavioral determinants of active ageing (WHO,
2002).
The Profile of Individual Life Style
Questionnaire (Both et. al., 2008) known as "The
Pentacle of Well-Being", with a conceptual basis for
evaluating the lifestyle of individuals or groups. This
instrument consists of 15 questions, divided into the
following factors: nutrition (factor 1), physical
activity (factor 3), preventive behavior (factor 4),
social relationships (factor 5) and stress management
(factor 2), without regard
to socio-economic factors,
genetic heritage, political beliefs and other factors
that may influence the results.
Of course the ideal would be that all items were
completed at maximum level (corresponding to 3
points on the scale). Scores in levels zero (0) and
one (1) indicate that the individual must be guided
and helped to change his/her behavior in the items
assessed, since they pose ri
sks to his/her health. The
general idea is to allow the person to identify
positive and negative aspects in his lifestyle, getting
information and opportunities to make decisions that
can lead to a life with more quality.
In our research we applied the instrument
individually and the seni
or received a copy of
his/her responses to check what points he/she is
doing well and the points he/she has to make efforts
to get better results. The meanings of the responses
are as follows: [0] never, [1] sometimes [2] often
and [3] always. The results indicate that diet and
physical activity should be improved. Like most of
group is living alone (8) or has a problem of
movement (4) or sedentary lifestyle. It demonstrates
the difficulty in maintaining a varied diet or frequent
physical activity.
Table 1: Factor 1 (Nutrition).
[3] [2] [1] [0]
a. Your daily diet
includes at least 5
portions of fruit and
vegetables
31% 23% 31% 15%
b. You avoid eating
greasy foods (fatty
meats, fried foods)
and candies.
8% 46% 46% 0%
c. You do 4 to 5
different meals a day,
including full
breakfast.
31% 15% 39% 15%
Table 1 shows that 31% of group has 5 portions of
fruit and vegetables in their daily diet. On the other
hand, 46% sometimes avoid eating greasy foods and
candies, and 8% always avoid this kind of food.
Another factor that must be improved is the number
of meals a day, 39% sometimes do 4 to 5 meals, and
15% never do that. These outcomes were reinforced
with the speech of one senior: "
with the video I will
try to insert more vegetables at meals; as I have
reflux, I'm adapting my diet and I have already
CSEDU2014-6thInternationalConferenceonComputerSupportedEducation
542