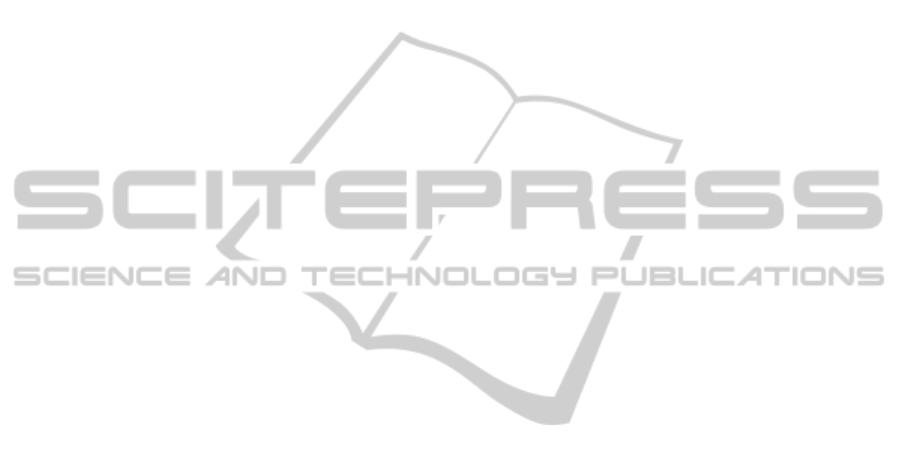 2 RELATED WORKS
The ontology term is borrowed from philosophy,
where an Ontology is a systematic account of
Existence. In Artificial Intelligence context we can
describe the ontology of a program by defining a set
of representational terms. In particular, an ontology
is an explicit specification of a conceptualization of
a domain of interest (Gruber, 1993).
An ontology can be written for different tasks
since many domains may n
eed a specific and formal
representation of knowledge:
Data Integration
: the purpose is to integrate
heterogeneous information systems. Often different
databases retain the same type of information in
different patterns of data modeling. An ontology can
be used as mediator between database schemas,
allowing you to integrate information in different
patterns and to realize an interpreter between data
from two different sources.
Information Retrieval (IR
): IR is the set of
techniques used for the recovery information in
electronic format. IR is
the largest field of
application of ontologies because they improve the
accuracy of online searches by adding semantic
information which is useful to reduce the search
space.
Semantic Web
: ontologies can be used to solve
various problems of heterogeneity of the Web.
Ontologies can enrich internal representation
(metadata) of meaningful
semantic labels, can build
representations to model users with respect to their
information needs and build mechanisms of
mediation between metadata and information needs
of the user (to build custom interfaces).
There are different types of ontologies depending
on abstraction level (Guarino, 1998):
Top-level
: ontologies with very general or
abstract concepts such as space, time, behavior,
action, etc. which are in
dependent from specific
domains, so as to be useful for their reusability in
other ontologies. For this reason they are also called
Meta-Ontology. Such ontologies alone may have
little use but they are great for building knowledge
bases.
Domain and Task Ontology
: this type describes
the vocabulary related to a generic domain (e.gg
aerospace, medicine, geography) or a generic
problem (e.g. diagnosis, configuration) and it can
specify concepts of a top-level ontology.
Application Ontology
: this kind of ontology
describe concepts in a specific domain and the
problems derived from it.
The use of ontologies
to provide a single and
shared representation of knowledge for all system
components has been largely motivated in literature
in the last decade: an inte
resting review of the state
of art of ontology-based software engineering can be
found in (Calero, 2005;
Castañeda , 2010; Gasevic,
2009; Farfeleder, 2011)
, and the last recent
proceedings of international forums like SWESE,
W3C, SEKE discussing synergies between ontology
engineering and software engineering. Synergies are
discussed focusing on different key concerns.
The first concern is related to the development of
life cycle integrating the adoption of ontologies.
The second one proposes methods to develop
ontologies. Literature recognizes mainly two
approaches: the experience-based (Gómez-Pérez,
2004) and the "engineered" based which defines a
set of life cycle activities aiming at prototype
refinement (Uschold, 1996; Noy, 2001).
The third concern is related to the development
of ontologies. Literature proposes ontologies with
different richness of expressivity and to different
purposes. Lightweight ontologies are principally
taxonomies, they include concepts, relationships
between concepts, and properties describing
concepts. Heavyweight ontologies are those which
model knowledge and define restrictions on
domain semantics, by means of axioms and
constraints. Ontologies are developed to support the
development process, to support the knowledge
sharing of general information about "the real
world" and the application domain (medicine,
automotive, railway, aerospace) (Calero, 2005).
The fourth concern aims to develop a complete
framework proposing both new methodologies and
tools to guide the use of ontologies and to apply it to
each phase of software life
cycle (Gasevic, 2009). In
the aerospace industry
domain ontologies are a
constant in each approach but are rarely defined. An
important work describing a basic ontology for
aerospace is presented in (Malin, 2006) where the
basic concepts of functions, entities and problems
are defined. Specific ontologies are proposed to
support the justification of design, RaDEX (Kuofie,
2010), and the aerospace composite manufacturing
domain (Verhagen, 2011), to define UAV missions
(Schumann, 2012) and to support the intelligence,
surveillance, and reconnaissance (ISR) mission.
NASA addresses the use of ontologies in
different contexts. The CDXA program aims to
integrate knowledge in complex programs proposing
a constellation of ontologies (SWEET, 2011).
DATA2014-3rdInternationalConferenceonDataManagementTechnologiesandApplications
342