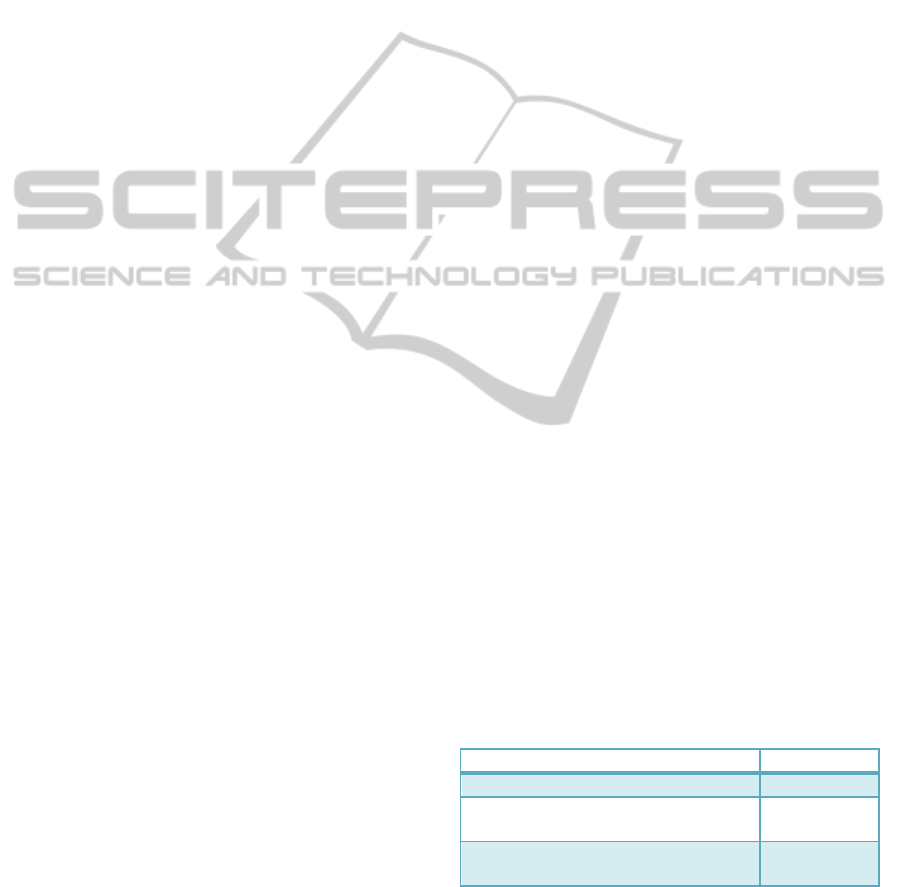 in average precision of 3 to 12 percent using phrases
derived from the TREC queries. For phrases derived
from query expansion, they achieved improvements
for the smaller test set, but not for the larger one
(Ogawa et al, 2000). Zhai et al achieved similar
results for noun phrases with TREC-5 queries (Zhai
et al, 1996). Kraiij and Pohlmann found modest
improvements using proper names as indexing units
(Kraiij and Pohlmann, 1998). Jiang et al had good
success with classifier-thing bigrams (word pairs in
which the first word effectively selects for a subclass
of the type referred to by the second word) (Jiang et
al, 2004).
Some techniques for creating lists of phrases
derive the candidates from existing data collections.
In particular, WordNet and Wikipedia have been
popular sources of candidate phrases. However,
these approaches typically have not shown a
significant advantage over other techniques.
Counterintuitively, human selection of phrases
also generally has not produced significant
improvements in retrieval performance. In 2010,
Broschart et al conducted experiments using the
TREC GOV2 collection (25 million documents),
three sets of TREC queries, and five users. For all
five users, incorporation of their chosen phrases as
indexing units yielded overall
lower
average
precision than the baselin
e comparison (BM25F).
They found that users frequently disagreed on
phrases in the TREC queries. On average, two users
highlighted the same phrase only 47% of the time
(Broschart, Berberich, and Schenkel, 2010). Such
inconsistencies also were noted by Kim and Chan.
They had ten human subject
s read articles averaging
1300 words in length and choose the ten most
meaningful phrases from
each one. On average,
only 1.3 phrases matched those chosen by others
(Kim and Chan, 2004).
There has been little reported testing of phrase
pre-processing for LSI.
In 2000, Lizza and
Sartoretto incorporated two-word phrases into LSI
indexes for small document collections. They
reported a 9% improvement in average precision for
the TIME collection (423 documents), but no useful
increase for the MEDLINE (1033 documents) and
CISI (1460 documents) collections (Lizza and
Sartoretto, 2000).
Weimer-Hastings investigated the effect of
incorporating noun and verb phrases when using LSI
to grade student answers to questions. He employed
manually identified phrases in comparing student
answers with expected answers. He found a
decrease in correlation
with human evaluations
when the phrases were used (Weimer-Hastings,
2000).
Wu and Gunopulos tested LSI with two-word
phrases, selected based on a threshold for either
document frequency or information gain. In their
testing, they employed the R118 subset of the
Reuters 21578 test set. They only were able to
increase F1 for that test
set from .8417 to .8449,
which was not statistically significant (Wu and
Nakov, Valchanova, and Angelova examined the
impact of different text pre-processing steps
(lemmatization, stopword removal, etc) in using LSI
for document categorization.
They employed a test
set of 702 Bulgarian-language documents assigned
to 15 categories. Altogether they tested 120
combinations of local weight, global weight, and
LSI dimensions. In 87 of these cases, incorporating
phrases into the LSI index yielded no change in
microaveraged categorization accuracy for the
collection. In 27 cases there was an improvement;
for 9 cases the results were worse. Most
improvements were 1% or less. In all cases where
the best-performing local and global weights were
used, phrase processing had no effect (Nakov,
Valchanova, and Angelova, 2003).
Grönqvist examined LSI performance on a
synonym test of 440 Swedish queries, with 10.9% of
the queries and 35.5% of the answers consisting of
phrases. Results from creating the LSI index with
and without phrases are shown in Table 1. He noted
that the difference between the first case and the
second was not statistically significant, but that the
difference between the first and the third was
(Grönqvist, 2005A). Overall, incorporation of two-
and three-word phrases (Grönqvist, 2005B):

Corrected 30 queries that had been incorrectly
evaluated by classical LSI.

Incorrectly judged 15 queries that had been
correctly evaluated by classical LSI
Table 1: LSI phrase indexing results.
Individualwords
59.55%
Individualwords+two‐word
phrases
61.59%
Individualwords+two‐word
phrases+three‐wordphrases
62.73%
In his thesis, Grönqvist also performed document
retrieval tests with 101 CL
EF topics for Swedish and
133 TREC topics for English. For Swedish, there
was a small decrease in performance when
incorporating phrases. For English, the results were
KDIR2014-InternationalConferenceonKnowledgeDiscoveryandInformationRetrieval
64