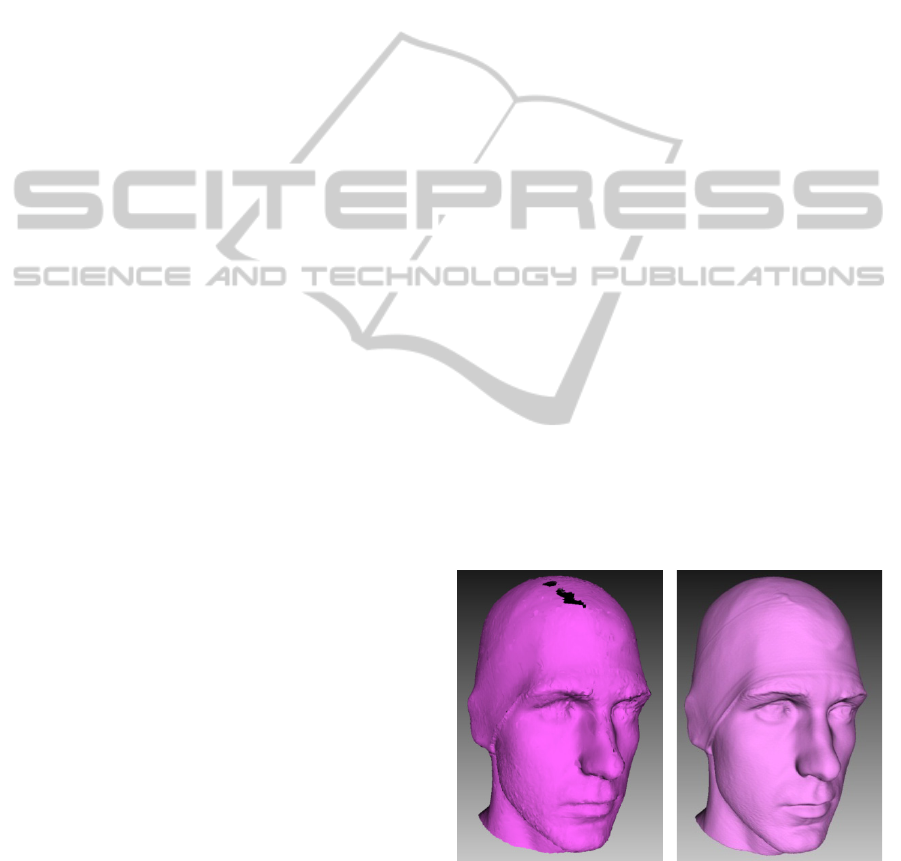 the ISO draft was itself founded from the first set of
test headforms produced by the UK Transport Road
Research Laboratory in the 1950s' (British
Standards Institution, 2006). One may think that
designing bicycle helmets on anthropometric
measurements from the 1950s British workforce
would not fully encompass the variability on head
shapes in today's population. It might lead to
improper helmet fit for a large proportion of cyclists.
In order to go beyond the errors in the
anthropometric data and to match the majority of
people head shapes, designers have been creating
helmet liners with significant offset distance from
the standard headform surfaces. This designing
approach also ensures th
e highest proportions of
users are captured with the smallest numbers of
sizes. It is common for helmet manufacturers to only
provide one or two sizes for both male and female
populations. Thick foam pads are then added to fill
the gaps between the liners and wearer's head.
While this approach noticeably improves comfort
and allows a minimum gap for air circulation, it does
not reduce front-to front, side-to-side, or rotational
movements that are responsible for poor helmet
fitting. It is apparent that such an approach leads to
improper helmet fit for a large range of consumers.
Even with a widely recognised poor head-fitted
bicycle helmet design (Robinette and Whitestone,
1994), accurate techniques
to quantify the adequacy
or inadequacy of fit for a distinct person and a
distinct helmet are still tedious and inaccurate, and
are not in line with today's technology. The distance
between the inside of the helmet and the skull of the
user is measured using depth probes through holes
drilled in the helmet. Only
recently 3D scanners
have been introduced to
accurately compute standoff
distances of ballistic helmets (Meunier et al., 2000).
The paper aims to present a method of estimating
the 'fit score' of bicycle
helmets for unique human
head shapes. Based on 3D
anthropometric studies, a
set of reverse engineering tools and computational
techniques was developed to evaluate the fit from
the combination of one helmet and one individual's
head. We introduced the Helmet Fit Index (HFI) that
can be used for statistical analysis of fit on a defined
population and the comparison of different headgear
models.
2 METHOD
The helmet fit analysis me
thod consisted of four
distinct steps: (1) Anthropometry data of participants
were recorded and processed using a handheld or
rotating 3D scanner and post processing software,
(2) bicycle helmets were digitised using a higher-
end, fixed 3D scanner, which generated scans with
greater accuracy and resolution, (3) both scans were
positioned in relation to a third intermediary 3D
scan, and (4) multiple computational analyses were
performed to compute the HFI for each participant.
2.1
3D Anthropometry: Data
Collection and Processing
The Artec Eva™ 3D scanner was used for the
anthropometric study. As a handheld white light
scanner, it can produce accu
rate point clouds up to
one hundred micrometres at a half a millimetre
resolution. It is completely portable and utilises
surface geometry and texture algorithms to align
itself in space and theref
ore does not require any
targets to be placed on the scanned area.
During the scanning process, participants were
asked to sit straight and look at a fixed point on the
wall with his/her usual facial expression. The
posture position and scanning techniques were in
accordance with the requirements of ISO
20685:2010(E
) 3-D scanning methodologies for
internationally compatible anthropometric
databases
(International Organization for
Standardization, 2010b). Participants were asked to
wear standard wig caps on their heads and over their
ears to avoid hair irregularities on the scanned
geometry. The scanner can
record single scan at a
rate of fifteen frames per second for about thirty
seconds and automatically aligned the frames while
scanning (Figure 1(a)).
Figure 1: (a) Rough alignment of 532 single scans, (b)
Watertight scan.
Fine alignment algorithms and clean-up were
then performed on the individual shots before the
hundreds of scans were merged together in a smooth
(a) (b)
icSPORTS2014-InternationalCongressonSportSciencesResearchandTechnologySupport
146