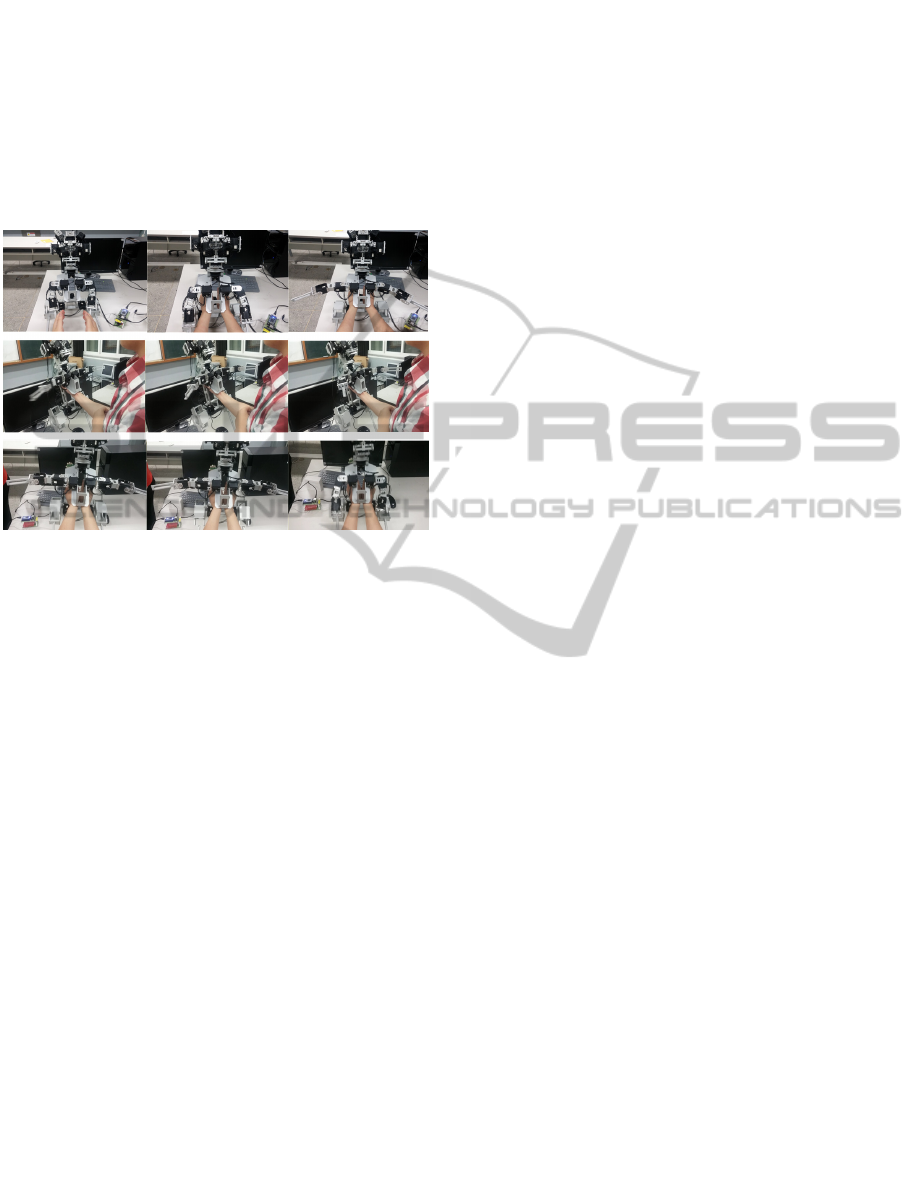 upper leg according to the body shape of the patient.
Upper left in the Figure shows user approaching to
robot, then board sensor of the robot detects the
intension with the robot touch. Finally it controls its
leg and upper legs to fit the user body. Until now,
the performance of hugs is unnatural because it has
no outer skin and furry coat. In the near future, more
comfort hug method will be revised with the support
of outer skin.
Figure 17: Hugging.
5 CONCLUSIONS
The design of a robot having a cat character is
suggested in order to make positive treatment effects
for the ASD children. The
operations related with
the various facial expressions and body gestures
with appropriate interaction between robot and
patient are suggested and implemented with analysis
of engineering issue. The suitable motors and
intelligent sensor system that can measure and
control the robot are also designed. The basic
emotional expression using facial movements for the
treatment are performed to
express anger, sadness,
and surprise. Various types of treatment action are
also suggested using body, and legs like hugging,
eye contacts, and some behaviors. As shown in the
result, cat robot can expres
s therapeutic action with
the proper interaction. In the future, more realistic
problem to control a robot will be studied with the
outer skin and appropriate
artificial furry coat. In
addition, the realistic therapy program will be
designed after getting feedb
ack from real treatment
place. These kinds of studies using face and body
parts of animal robot is expected to cause the
diversification of robot usages in the future.
ACKNOWLEDGEMENTS
This work was supported by the National Research
Foundation of Korea Grant funded by the Korean
Government (NRF-
2013R1A2A2A04014808).
REFERENCES
Cho, K., Kwon, J., Shin, D.,
2009. Trends of cognitive
robot based intervention for autism spectrum disorder,
Journal of Korean Association for person with autism,
9(2). pp 45~60
Feil-Seifer D, Matari´c
M.J., 2008. B3IA: a control
architecture for autonomous robot-assisted behavior
intervention for children with autism spectrum disorders.
Proc. 17th IEEE Int. Symp
. Robot Hum. Interact.
Commun.
(
RO-MAN 2008
),
Aug. 1–.3, Munich, Ger.

, pp.
328–.33. Piscataway, NJ: IEEE
Kim, K. H., Lee, H.S., Jang, S.J, Bae, M.J., Ku, H. J.,
2011. Exploring the Responses of Children Labeled
with Autism- Through Interactions with Robotic Toys.,
J
ournal of Special Education & Rehabilitation Science,
50(1) pp. 181~209,
Lee, H. S., Baek, S. S., Ku, H. J., Kang, W.S., Kim, Y. D.,
Hong, J. W., An, J.U., 2010.
Experimental Research of
Interactions Between Children with Autism and Robots,
J
ournal of Emotional & Behavioral Disorders,
26(2) pp.
Robins B, Dautenhahn K, Te
Boekhorst R, Billard A.,
2005. Robotic assistants in therapy and education of
children with autism: Can a small humanoid robot help
encourage social interaction skills?
Univers. Access Inf.
Scassellati B,, Admoni, H.,
and Mataric, M., 2012,
Robot for use in autism research,
Annu. Rev Biomed.
Kwon, J.Y., Mun, K.H,
Lee, B.H., Jung,

J.S., 2014. Devel
oping an initial model for an eco-friendly cat robot for t
he use of early treatment of autism spectrum disorder.
Proc. 4th Int. Conf. on Pervasive and Embedded Comp.
and Commun.
(PECCS
2014

),

Jan,. 7–.9, Lisbon, Por.

,
pp. 186-191.
Gillesen, J.C.C., Barakova, E.I.
, Huskens, B.E.B.M., Feijs,
L.M.G., 2011. From traini
ng to robot behavior:
Towords custom scenarios for robotics intraining
programs for ASD.
2011 IEEE Int. Conf. on
Rehabilitation Robotics
,
July 1,ETH Zurich Science
Robotis, 2014,e-manual, http://support.robotis.com/en
MBED, 2014, https://mbed.org/platforms/mbed-LPC1768/
Hazewinkel, M., ed. 2001, "Spline interpolation",
Encyclopedia of Mathematics
, Springer, ISBN 978-1-
55608-010-4.
DevelopmentofTherapeuticExpressionforaCatRobotintheTreatmentofAutismSpectrumDisorders
647