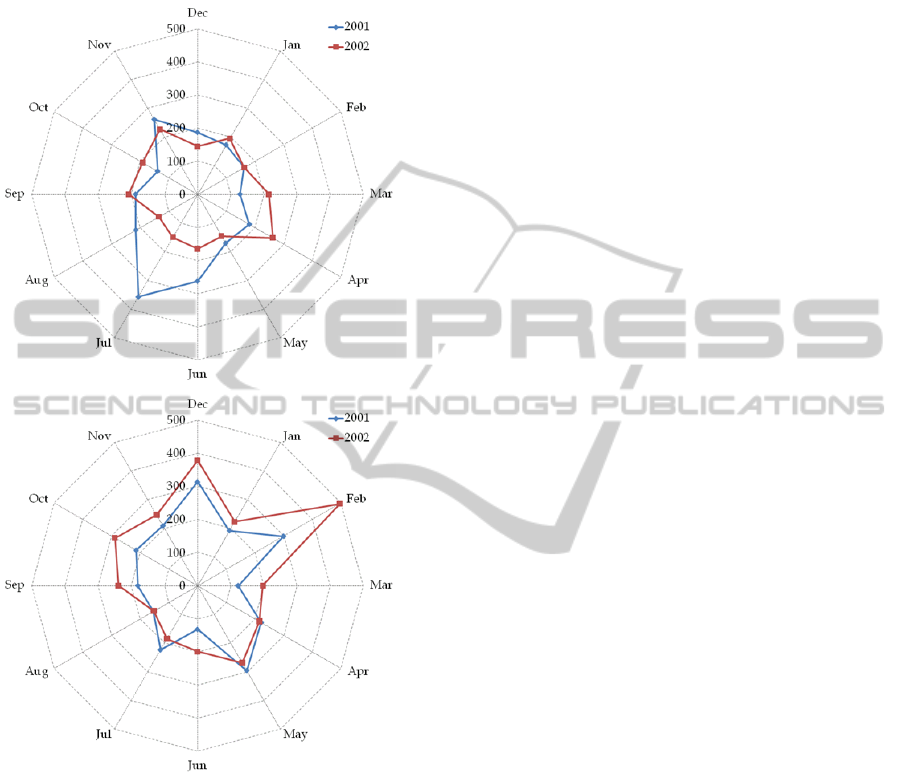 reference profile as a reference sequence and the
monthly SBP profile as a test sequence. The smaller
the value of the BCI is, the higher the similarity has
between the personal reference and monthly profile.
Figure 5: Monthly change of
the BIC, or the overall
distance between personal reference profile and monthly
SBP profile in the wife (upper plot) and the husband
(lower plot) in two years.
It is obvious that the monthly rhythmic change
can be found in both the wife and the husband.
Nevertheless, the exceptional change in the wife
happened in July, 2001 (blue trace in upper plot),
and husband in February, 2002 (red trace in lower
plot). The onset of the symptoms usually insinuates
certain alterations in physical or mental conditions.
This implies that remarkable change in the health
condition of the wife and the husband probably
occurred in the respective timing point.
The above analytical outcome were confirmed to
be accordant with the couple's real situation by
referring to their personal medical records, both
were in poor health condition and were accepting
treatment in the corresponding period.
In comparison with the noteworthy biorhythmic
variations in July, 2001 of the wife and in February,
2002 of the husband, indistinctive change in other
corresponding months in two years exhibits a
monthly repetitive pattern of biorhythmicity in good
health condition.
4 DISCUSSION
Many chronic diseases, such as diabetes,
hypertension, arteriosclerosis, malignant neoplasm,
cerebral and cardiovascular conditions, are silent
killers that require a long-term course in disease
development and threaten human beings in a latent
way. Occasional or regula
r yearly health check-up
are difficult to identify the onset of the symptoms
and incidence of diseases at their early stage.
Various home-based devices provide convenient
approaches for daily measurement of variety of
physiological data in daily life environment.
Nevertheless, a huge volume of data accumulated
over a long-term period usually contain abundant
functional information but require proper approach
in order to assess the significant signature in
different physiological and pathological conditions.
As is well known, physical and mental
conditions are affected by various endogenous and
exogenous factors. They may include emotional,
psychological, behavioural aspects, and as well the
meteorological, environmental, geographical, and
temporal factors. Therefore,
it is difficult to identify
the underlying regulatory mechanism which is
responsible for various benign and malignant
stimulants.
Instead of scrutinizing every detail of daily
measurement of SBP, we applied an efficient DTW
algorithm for tracking of biorhythmic alteration to
reflect the health condition change. The results also
suggest that it is possible to track not only
physiological condition change in monthly base but
also various specific events in daily base such as
heavy intake of alcohol, mental depression, and
other unusual incidents in daily life, provided the
vast amount of physiological data is accumulated
through daily measurement
over a long-term period,
and proper algorithm is applied to scoop out the
valuable information.
Personal reference profile
is currently obtained
by simply averaging all of the monthly data. It is
TrackingofMonthlyHealthConditionChangefromDailyMeasurementofSystolicBloodPressure
73