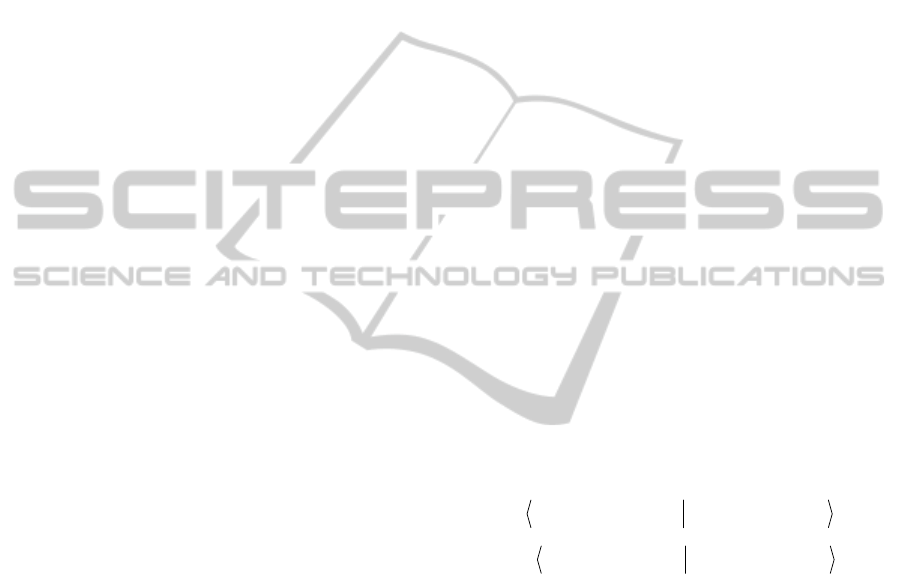 distant sources are attenuated. Laplacian filtering is
estimated by subtracting the average of surrounding
electrodes from each indi
vidual electrode. CAR is
acquired by removing the mean of all the electrodes
from each individual electrode. See Figure 2.2b.
2.2.3 Feature Extraction
Sensory stimulation, cognitive activities, and motor
behaviour result in amplitude suppression or
enhancement of the EEG signals. The association of
this EEG modulation with specific events is known
as event-related oscillation (ERO). Those events can
be of two types: event-related synchronization
(ERS) and event-related desynchronization (ERD).
If the EEG signals increase their synchrony and thus
their amplitude, an ERS arises. Otherwise, an ERD
appears (Klimesch, 1999).
Particularly, MI activity
triggers ERD on the contralateral hemisphere, as
well as ERS on the ipsilateral hemisphere. The
concerned oscillations take place within alpha (8–
12Hz) and beta (16–24Hz) bands over the primary
sensory-motor cortical area (Pfurtscheller and Lopes
da Silva, 1999). As EEG power can reflect ERD and
ERS, there are three me
thods based on power
measurement to detect MI
activity. These are: (1)
band power (BP) or absolute power, (2) relative
power, and (3) ERD-ERS values. All of them were
implemented in the
miBCI software
and are
illustrated in Figure 2.2c.
BP consists of three steps: (1) band-pass filtering
of the EEG signals in predefined frequency bands,
(2) squaring of the amplitude samples to obtain
power samples, and (3) averaging of the power
samples over specific time segments (Pfurtscheller
and Lopes da Silva, 1999). Note that time segments
used to average the power samples are specified in
the segmentation tool of the data acquisition menu
(Figure 2.2a).
Relative power is defined as the ratio between
the absolute power in a single frequency band, and
the absolute power in a collection of frequency
bands (Kropotov, 2009; Sörnmo and Laguna, 2005).
This is determined as follows. First, the EEG signals
are band-pass filtered in predefined frequency bands.
Second, the EEG signals are band-pass filtered in a
broad band that involves all the foregoing frequency
bands. Third, the amplitude samples are squared to
obtain power samples. Fourth, the power samples in
the predefined frequency bands are divided by the
power samples in the broad band. Finally, the power
samples are averaged as in the BP method.
To obtain ERD-ERS values, the same procedure
described for BP is followed. However, having
determined the BP estimates, these are additionally
divided by an average power value. This value refers
to the BP calculation in a reference interval (RI),
which is typically taken a few seconds before
occurring the control task.
2.2.4 Feature Selection
Feature selection is based on two stages: ranking and
classification. This means
that the features within
each vector are first ranked from the most to the
least fruitful feature by using Davis-Bouldin index
(DBI) or recursive feature elimination. Having
ranked the features and in order to select a proper
number of them, a classifi
cation stage takes place as
follows. First of all, if there are three classes (
class
1
,
class
2
3
) under study, then one classifier
1
) is assigned to discriminate between
class
1+2
and
class
3
2
) is used to discriminate
1
2
. If there are two classes
1
2
), then only the first classifier (
c
1
)
is necessary. Applying any of these two
classification methods, the already ranked feature-
vectors are classified every

features,
accomplishing

classifications in total (
C
1

K
). This
means that K sub-feature-vectors (
x
) are formed on
the basis of the factor

. In addition to the factor

,
the feature-indexes (

) corresponding to the first and
last features taken from ev
ery feature-vector must be
defined as well. The whol
e classification stage can
be expressed by
1),::(1),::(
1),::(1),::(
21
1
321
2
1
11





lastfirstclasslastfirstclass
c
lastfirstclasslastfirstclass
xxc
xxc


(1)
From the

resulting classification accuracies, the
miBCI software
searches the classifier(s) that yields
the highest classification accuracy(ies), and so the
most fruitful features are selected.
2.2.5 Classification
Classifiers mainly seek to
assign a feature-vector to
a specific class through a discriminant function. In
the
miBCI software

, this function is obtained by
using Fisher discriminant analysis (FDA) or
linear/Gaussian support vector machines (SVM).
The classification stage in the
miBCI software
proceeds in five steps. Fi
rst, the feature-vectors are
scaled to avoid features
in greater numeric ranges
dominate those in smaller numeric ranges. The
feature-vectors are normalized by using the mlpy
module (Albanese et al., 2012) or standardized by
dividing MI-related features by RI related features.
PhyCS2015-2ndInternationalConferenceonPhysiologicalComputingSystems
38