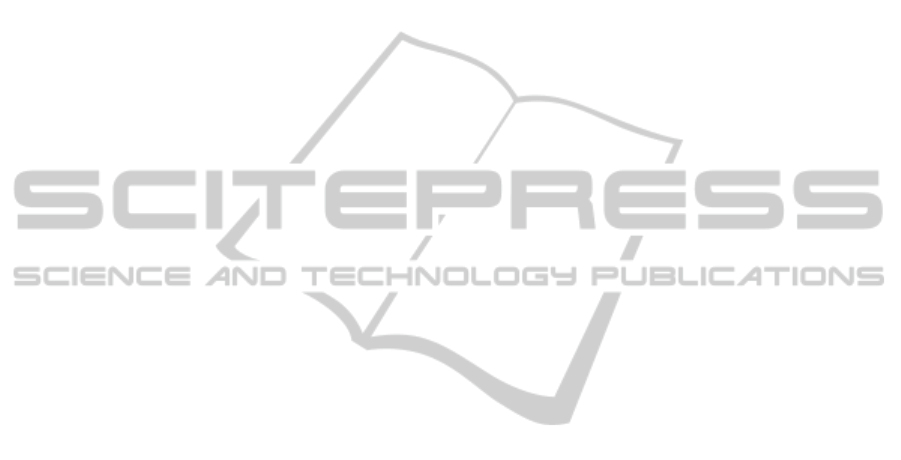 contrast of the image, image segmentation is defined
about mass detection as locating the suspicious
regions. Features extraction and selection are
defined to classify different types of lesions and to
reduce false positives. Masses are grouped with
respect to their size (Kom, 2005): small size (3-15
mm), middles size (15-30 mm) and large size (30-50
mm). Masses of size smaller than 5 mm or larger
than 50 mm are left out during detection for
diagnosis. In this paper we proposed a new method
for suspicious regions detection in mammograms
based on two steps: preprocessing; features
extraction. In preliminar
y experiments we achieved
a good sensivity accuracy
in suspicious regions
detection. The paper is organized as it follows: in
section 2 we give an overview of the state of the art
methods; in section 3 we describe the proposed
method; in section 4 we show the experimental
results; section 5 ends the paper with conclusions
and future works.
Several research works, in
last decades, tried to
develop computer aided diagnosis tools to help the
radiolgists in the interpretation of the mammograms.
Some methods aimed to enhance the digitized
image prior to object iden
tification (breast cancers,
microcalcifications, lesions). te Brake and
Karssemeiger (te Brake, 1998) proposed a method to
identify stellate distortions by using an orientation
map of line-like structur
e where the location of
possible tumors can be detected. Petrick et al
(Petrick, 1996) performed a two-stage adaptive
method, based on contrast
enhancement filtering
along with edge detection and morphological
features classification, for the segmentation of
masses in mammograms. In (Gupta, 1995) the
authors used Laws filters to identify suspicious
regions in mammography. Viton (Viton, 1996)
performed a method based on the degree of
spiculation and the presence of fuzzy areas in the
boundary of the tumor. Li et al (Li, 2001) proposed a
method based statistical
modelling using bayesian
relaxation labelling for the identification of
suspicious regions. In (Highnam, 1999) the authors
described some methods to detect the presence or
the absence of lesions from the mammograms.
When mammograms manifest masses, this could
correspond to the detection of suspicious regions
(nodular opacities, clear masses with lobed edges,
stellar opacities, microcalcifications).
Several image processing methods have been
proposed to perform suspicious regions detection.
Some methods aimed to e
nhance the digitized image
prior to object identification. The structural
asymmetry between the right and the left breast
images is used to determine mass locations (Lau,
1991). Several methods for masses detection in
mammogras are based on segmentation techniques
(Kekre, 2009). In (Kekre, 2009) the authors
proposed a tumor detection in mammography
images using vector quantization technique.
Template matching is one of the most common
approaches for medical im
age segmentation, it is
also used to segment possible masses from the
background of mammograms using prototypes.
Masses prototypes are created based on the
characteristics of the targeted masses, such as in
(Tourassi, 2003). In (Rogova, 1999) the authors
performed an approach to detect all different lesions
by unsupervised segmentation method. Fuzzy
logical (Sameti, 1996) also
has been introduced for
segmenting suspicious regions. The features
extraction is a fundamental step in mass detection
since the performance of CAD (Computer aided
diagnosis) depends on the selection and optimization
of the features than the classification method.
Features, such as the size, shape, density,
smoothness, texture descriptors, can be calculated
from the region of interest (ROI), otherwise,
excessive features may de
grade the performance of
the classifier. Significant
features mainly include
(Li, 2001) four considerations: discrimination,
reliability, independence, optimality. Some
supervised methods used ANN (artifical neural
network), BBN (Bayesian Belief Network) (Zheng,
1999) linear discrimination, genetic algorithm (GA)
(Sahiner, 1998). The classifiers can be combined to
improve the classification rate: in (Constantinidis,
2001) five different classi
fiers such as multivariate
Gaussian classifier (MVG
), radial basis function
(RBF), Q-vector median (QVM), 1-nearest
neighbour (1NN) and hyperspheric Parzen Windows
(PZN) are combined to detect masses in
mammograms. Cascio et
al. in (Cascio, 2006)
performed a method for detecting masses in
mammographic images consisting of two steps:
image segmentation by contour searching and mass
lesions classifications with neural network. A
method for automatic detection of mammographic
masses is performed by Domìnguez and Nandi
(Domìnguez, 2008), it is based on regions
segmentation and ranking. The regions are
segmented via thresholding at multiple levels, then a
set of features is computed for each of the
segmented regions. The region ranking identifies the
AnUnsupervisedMethodforSuspiciousRegionsDetectioninMammogramImages
303