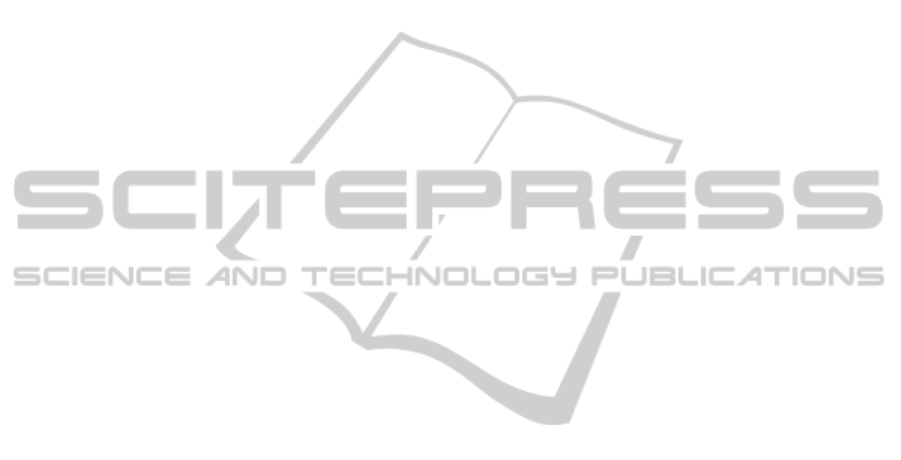 architecture models (R. Prasad, 2013).
The European-funded under Framework Program
Seven (FP7) within Information Communication
Technology (ICT) project eWALL (eWall, 2013)
proposed an affordable, easy-to-implement smart,
"caring home" cognitive enviro
nment, that "senses"
intuitively the wishes and "learns" the needs of the
person that lives in this house, providing unobtrusive
daily support, notifying informal an formal
caregivers when necessary and serving as a bridge to
supportive services offered by the outside world. It
is a dynamic home environment that unobtrusively
monitors and interacts with its inhabitants while they
perform their activities of daily living (ADL), able to
recognize abnormal events as well as slowly
emerging shifts in behavior, and able to inform
associated users (caregivers, healthcare
professionals, family) appropriately to provide a
feeling of safety and comfort for all involved parties.
The key aspects of the project eWALL are
innovative research, evaluation and implementation
towards a short-and long-term exploitation impact.
This paper is further organized as follows. Section
II describes the eWALL user groups and scenarios
and derives the key requirements from a research
viewpoint to design a highly usable, efficient and
implementable e-Health service framework. The
main eWALL services to be provided are defined in
Section III. Section IV defines the required IoT
framework for the provision of the eWALL services.
Section V compares the derived services, devices
and capabilities to the ones defined within the ITU-T
recommendations and identifies commonalities and
gaps. Section VI concludes the paper.
2 EWALL USER GROUPS AND
SCENARIOS
2.1
Page Setup Main Requirements for
a Sustainable e-Health System
A successful e-Health syst
em should be able to
maximize the potential societal impact of its use, and
thus, should be able to support a broad range of
target users. The general user groups will involve a
myriad of primary end users that can be categorized
according to their human health state, and a number
of secondary end users and third parties (e.g.,
technology providers). Smart home systems enable
constant monitoring and interpretation of health-
related parameters (e.g. ADL's, medicine intake,
physiological parameters) in the primary user's
everyday life, which give the informal caregivers
(i.e., a group of secondary users) the information
necessary to feel comforta
ble about the person they
care for, and need to rely less on professional
expertise, leading to reduction in visits to doctors.
For various chronic conditions, in which the use of
professional healthcare services is mandatory,
everyday monitoring and interpretation of the
patient's relevant data can provide professional
caregivers (another secondar
y user group) with the
information vital to enable the focus of their efforts
on those patients who need it most. The key
requirements for enabling a sustainable e-Health
system, are the personalization and adaptation to
specific needs and preferences, the efficient data and
context sharing between the different required
services and artefacts,
including the handling of
multiuser identification, auto configuration and
calibration systems. These requirements demand
high personalized usability and unobtrusive sensing.
eWALL incorporates a myriad of wireless and
wired communication and data processing
technologies and networked devices that interoperate
in the frames of the eWALL platform to provide e-
Health services.
Information is collected by means of sensing
devices and forwarded further by residential
gateways. To improve the interoperability between
sensors and residential gateways device type specific
standards developed by the Continua Health
Alliance can be used. Current solutions lack
interoperability and therefore impede the
establishment of a remote patient monitoring
solution market. The ISO/IEEE Standards 11073
standardizes the transfer of medical information and
can be used to achieve the above described aim (M.
Benner, June 2011). This is also a styandard used in
eWALL, which can then be enhanced further by the
research performed. Usage of Continua Certified™
products allows for enabling data interoperability,
which processing can be challenged by the wide
range of sensors from different vendors and
standards.
The Smart Open Services for European Patients
(epSOS) (epSOS, 2008-2014) is very useful to
enable cross-border interoperability and secure
access between electronic health record systems.
Secure transfer of personal medical data is key to
avoiding critical medical errors, and therefore, is a
key requirement for enabling a sustainable e-health
solution. The role of standards should also extend to
cover the critical aspects of privacy and trust. The
integration of the eWALL functionalities with
epSOS is achieved in such a way that the developed
BIODEVICES2015-InternationalConferenceonBiomedicalElectronicsandDevices
284