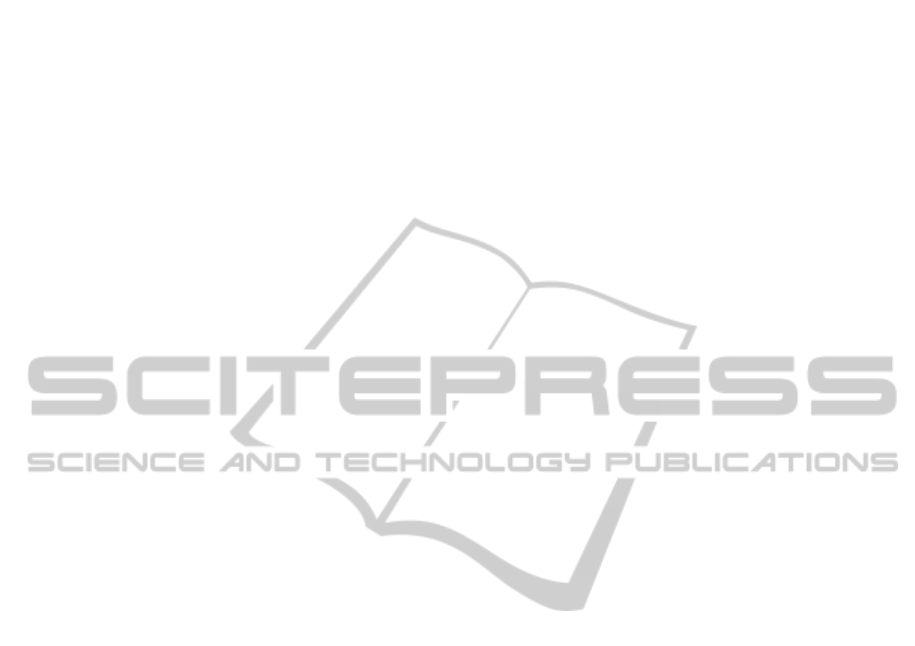 scanning technology extracts high resolution point
clouds and it is widely used for the scientific
documentation of historical monuments (
Boehler et
al., 2004). 3D laser scanning allows the
reconstruction of individual parts of historical
monuments producing a fine geometry mesh
(Allen
et al., 2003)
. Laser scanning supports the
maintenance, preservation and restoration of
monuments based on a highly detailed spatial data
set (
Balzani et al., 2004); (
Julia et al., 2010

). Both
photogrammetry and laser scanning create an
accurate geometric mesh an
d provide rich detail.
However, in the process, both produce a large
amount of data and the post processing is quite
complicated (
Grussenmeyer et al., 2008)
. In our
approach we use as an alternative geodetic total
stations which are portable, inexpensive, widely
available, requiring less training and having a wide
range of other applications. The goal of this
approach is to deploy a relatively low-cost total
station in order to acquire the co-ordinates of
specific surface points of Neoria in Chania's harbour
area. The advantage of using a total station to
acquire measurements on-site is that it performs fast
digital data collection of spatial co-ordinates of
archaeological monuments. It is an optical
instrument used to measur
e horizontal and vertical
angles in order to determine relative position. The
main technical challenge
was to produce an accurate
3D geometric mesh based on an efficient amount of
spatial co-ordinates that the total station captured in
the field. The end-goal
was to implement an
interactive visualization framework based on game
engine technologies enabling experts to identify
areas for restoration.
1.3 Methodology
In this paper, we propos
e an optimized tacheometry
surveying technique employing a total station for the
monument surveying. The measurement technique
put forward is quick, flexible and accurate, requiring
a small number of points acquired in interest areas
which at the final stage of
processing are connected
to form a geometric mesh
(Andrews et al., 2009). If
needed, additional points can be easily acquired in
places and used in conjun
ction with previously
acquired datasets.
The 3D model is constructed by connecting the
acquired 3D points in order to reconstruct a
geometric mesh of a surface. Surface reconstruction
algorithms take as input a set of sample points that
describe the shape or topology of an object in three
dimensions and convert these points into a 3D
model. There is a vast variety of algorithms which
reconstruct the topology
surface from sample points
in three dimensional space. The input of such
algorithms is a set of 3D coordinates utilized to
construct a polygonal mesh. A mesh consists of
vertices, edges and polygons. The 3D points are
considered vertices forming edges and polygons.
Reconstruction algorithms which compute
geometries either create th
e mesh using the existing
points as vertices or employ implicit functions to
approximate the surface.
Algorithms utilizing
implicit surfaces documented in research literature
are the Poisson surface r
econstruction (Kazhdan et
al., 2006) and Hoppe's al
gorithm (Hoppe et al.,
1992). Popular algorithms which compute
geometries are the powercrust algorithm (Amenta et
al., 2001) and the ball pivoting algorithm
(Bernardini et al., 1999
). After the surface is
reconstructed, subdivision is often needed.
Subdivision surfaces are polygon mesh surfaces
generated from a starting mesh through an iterative
process that levels the mesh while increasing its
density. Complex smooth surfaces can be derived in
a reasonably predictable
way from relatively simple
meshes. There are two kinds of subdivision
schemes; approximating subdivision surfaces and
interpolating subdivisio
n surfaces. Approximating
means that the result surfaces approximate the initial
meshes and that after subdivision, the newly
generated points are not included in the initial
surfaces. Examples of such
subdivision algorithms
are Catmull–Clark (Catmull and Clark,
1978), and
Doo-Sabin subdivision
surface (Doo and Sabin,
1978). Interpolating subdivision means that after the
subdivision, the control points of the original mesh
are interpolated to form
the resulting surface. A
popular method of interpolating subdivision is the
butterfly subdivision (Zorin et al., 1996). Although
widely used when dealing with laser scanning point
clouds, these algorithms require dense point clouds
to produce an accurate mode
l. The workflow of 3D
reconstruction based on a rather small amount of
acquired measurements utilizing a total station is
detailed in the following sections.
2.1 Data Acquisition
The outlines of the seven buildings of the Neoria
complex were initially measured, along with the
edges of the doors and the windows. Due to the
extent of the erosion, the framework proposed
GISTAM2015-1stInternationalConferenceonGeographicalInformationSystemsTheory,ApplicationsandManagement
96