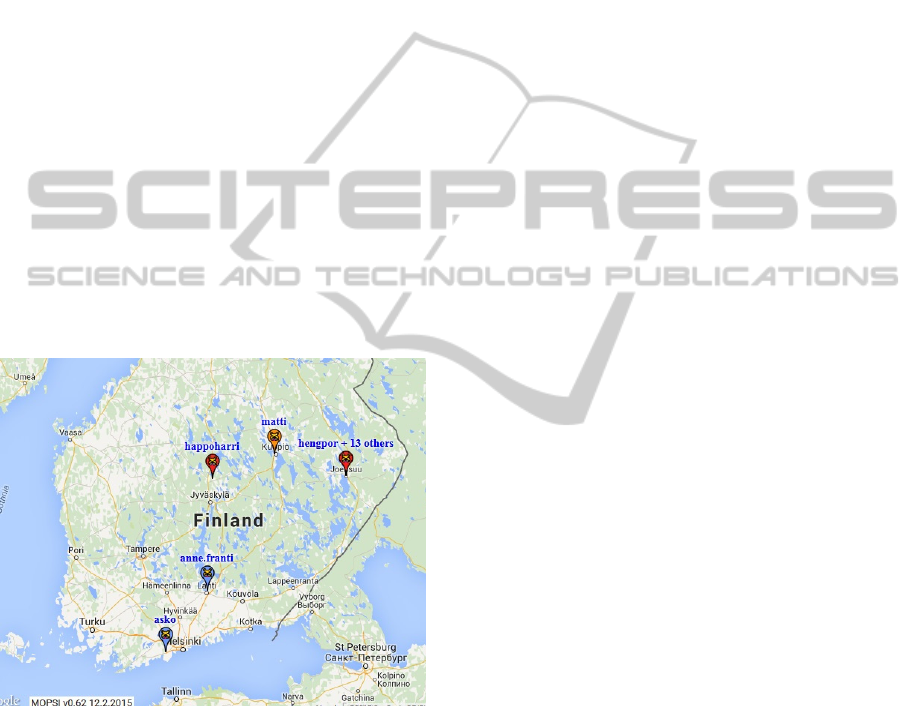 2.1
Effectiveness of the Network
By far the most widely used networks nowadays are
the social networks implemented by Facebook,
Twitter, Google+, Instagram and other similar
platforms where users explicitly specify with whom
they share their data. Social
network has indeed very
strong influence whose data is more relevant to the
user but it is not the only possible network.
Users in general are more interested what their
friends are doing than other people in general.
However, in recommendation system, the relevance
of the information is more important than the social
aspect. In location-aware recommendation system,
users are seeking for information around his current
location. A user visiting the place often is therefore
more likely to have more relevant information than a
friend. In this view, we have more pragmatically
driven information sharing platform rather than
merely a social network.
Another aspect of social network is that how
well the people connected
actually know each other.
According to the
small-world
phenomenon (Watts
and Strogatz, 1998), we can reach anyone in the
world by six steps, on average.
Figure 4: Example of clustering users according to their
location.
It was shown in (Barrat and Weigt, 2000) that even a
small amount of disorder (randomness) in the
network is able to trigger the small-world behaviour
even if the network was otherwise strongly
clustered. Therefore, the connectivity of the network
is not the bottleneck but the quality of the links is.
Network like Facebook is not really friend
network, but a term like
buddy network
would be
more appropriate. Due to social pressure, people
often try to be as connected as possible, which does
not really make sense from
the efficiency point of
view. Having 400 Facebook friends does not imply
that the person has 400 real friends; a more likely
number would be about 10 or less. Nevertheless, the
people who are linked together know each other, and
the small-world phenomenon applies.
From information distribution point of view, the
relevance of the information sent via network is
affected by how many people we are connected to,
and how often we use these links. Instead of sharing
information via a large number of links, few strong
connections are likely to be
more effective than a
large number of weaker li
nks. The strength of the
connection is therefore more important than the
connection itself.
Contrary to social netw
orks, strangers may also
be linked together because of sharing the same
interest. In
cough surfing
, people offer
accommodation to others without financial
compensation (Bolici, 2009
). The key aspects in
such
stranger network
are the reputation and trust
between the users. In Mopsi, only information is
traded but in the same way, the reputation of the
author influences how trustworthy we consider
his/her data. Recommendations can be used to build
up the trust, and improve the quality of the
information.
2.2
Automatically Created Networks
For computer scientists, anything that can be
automated is always worth to consider. Users can be
linked based on their behaviour how they use the
service (Gratz and Botev, 2009), or simply
according to their location. In Mopsi, the location is
taken into account in the recommendation system
already, but the similarity of the users is not yet
utilized. In (Bacon and Dewan, 2009), similar users
are recommended to each other. Once there will be
enough users in the service,
similarity can be used to
offer personalized search result.
A more ambitious ad hoc network is considered
in (Wu et al., 2009) using face analysis technique to
identify people in photos, and use this information to
create more complex social network automatically.
If more thorough content analysis could be
successfully done, people
with the same hobbies
could be connected automatically.
Another approach is to combine location-based
service and social network from two independent
components as done in (Simon et al., 2009). One can
then focus on developing the location-based media
collection and service directory, and utilize existing
network for user identity and all the social
WEBIST2015-11thInternationalConferenceonWebInformationSystemsandTechnologies
560