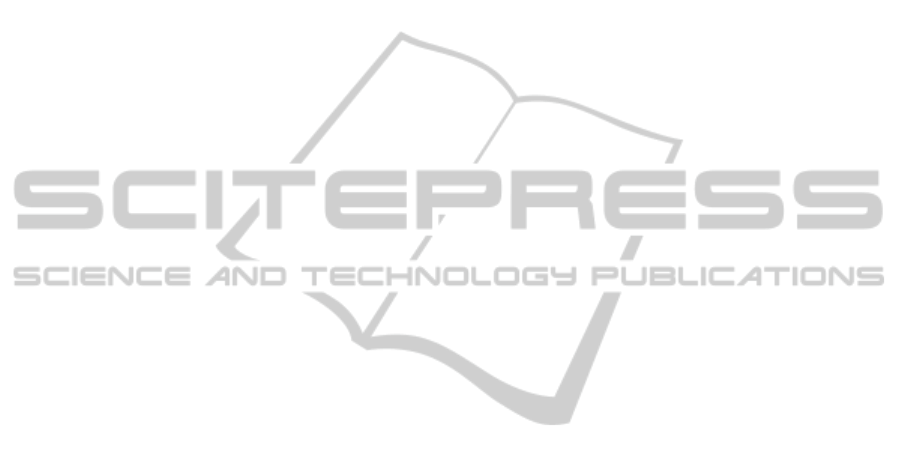 calculations on the amplitude images acquired by
ToF cameras partially overcomes this problem: The
reflectivity of a tracked targ
et, especially in the case
of human tracking, is usually less affected by
rotations than its appearance in color space.
For the actual calculatio
n of optical flow
between two amplitude images, we use the TV-L1
algorithm proposed by (Sanchéz, 2013). The flow
field is calculated upon receiving a new ToF frame
and stored within the frame. As the flow field based
propagation of the tracking probability map is only
used as a first approximation which is refined in
subsequent steps, our parameterization of the optical
flow algorithm is targeted on a higher computation
speed rather than an optim
al accuracy. Therefore, we
set the number of warps to 2 with 3 levels.
3.4
Tracking Probability Propagation
In ToF frames, information about the location of
tracked humans has to be stored and propagated. We
represent this information as a 2D probability map
where the value of each pixel denotes the probability
of this pixel belonging to a tracked human.
When a ground truth frame is received and the
ToF frame with the closest matching timestamp was
located in the ring buffer, point-to-point
correspondences between bo
th frames have to be
established. These correspondences are calculated
by creating a k-d-tree of the downsampled ground
truth cloud, iterating over all points in the ToF point
cloud and determining whether the distance to the
ground truth cloud is smaller than a pre-defined
threshold. For all points where this check is
successful, the according pixe
l in the zero-initialized
probability map is set to one.
Propagation of the tracking probability map from
t
t+1
is performed
using the flow fields a
ssociated with each ToF
frame: Using the flow field, each pixel
p
i,t
with a
positive probability value is projected onto the
tracking probability map of frame
F
t+1
. To map its
i,t+1
, y
i,t+1
coordinates, the probability value associated with
p
i,t
is distributed onto the four adjacent pixels
p
j1,t+1
..
p
j4,t+1
based on their L2 distance to the new position,
provided that these pixels are inside the region of the
image.
In addition to populating the tracking probability
map, the current total number of tracked targets is
determined based on the ground truth frame and
stored as part of the global tracking state.
3.5 Tracking Estimation
At the arrival of each new ToF frame, a tracking
probability map is calculated that provides a first
estimation which points in the point cloud
correspond to th
e tracked human. However, this
estimation has to be refined due to potential errors
introduced by the flow field based propagation of
the tracking probability. In our experience,
especially human extremities such as arms are prone
to misdetection during optical flow propagation with
low-resolution ToF cameras (false negatives). Also,
tracking probabilities might be erroneously
associated to non-tracked objects in the surrounding
environment (false positives).
For this reason, the tracking estimation step is
split into two stages: tracking refinement stage and
outlier rejection stage.
3.5.1
Tracking Refinement Stage
The tracking refinement stage is primarily targeted
at correcting false negative detections, e.g. non-
detected extremities. The tracking probability map is
first binarized by comparison against a pre-defined
threshold and then segmented into connected
probable tracking regions
r
i
. For each region, the
i
i
as a seed, a
floodfill operation is performed on the associated
depth image in order to connect previously
undetected pixels with local
continuity in 3D space.
The result is a refined tracking estimate
r
i
connected region.
3.5.2
Outlier Rejection Stage
While false negative detections have been resolved
in the previous stage, there is still a possibility for
false positive detections to be present due to
erroneous propagation of the tracking probability
map onto untracked pixels. To reject these outliers,
the current number of probable tracking regions is
first checked against the number of tracked targets
(see Section 3.4). If there are more regions than
tracked targets, we perfor
m a similarity comparison
between each tracked region
r
j,t-1
and all current probable tracked regions
r
i,t
to detect the correct correspondences. The similarity
comparison is based on both 2D similarity metrics
(e.g. 2D center location and area of a region) and 3D
similarity metrics (e.g. Euclidean distance between
the center points in 3D space). For each region
r
j,t-1
of the previous frame, the best matching region
r
i,t
is determined and its featur
es are stored as detected
tracked regions in the current ToF frame. In order to
ContinuousPre-CalculationofHumanTrackingwithTime-delayedGround-truth-AHybridApproachtoMinimizing
TrackingLatencybyCombinationofDifferent3DCameras
125