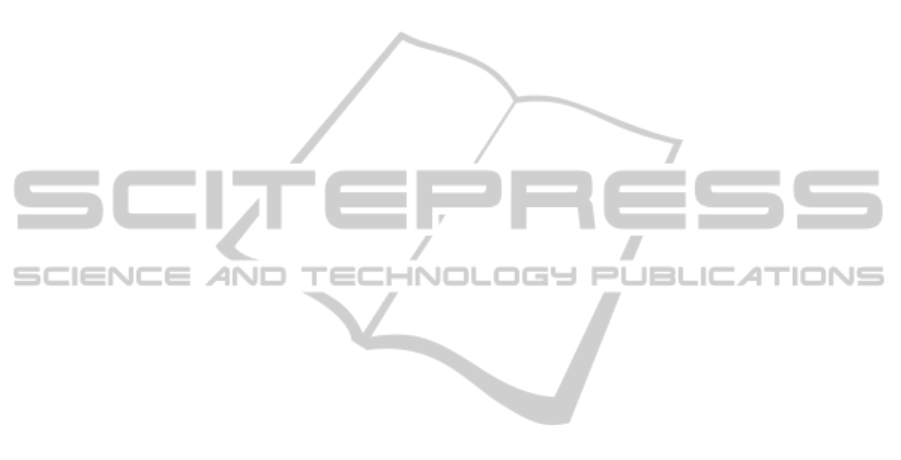 kinds of entities:
attributes
and

objects

. Attributes
express the concepts' intent
, and object sets express
the concepts' extent. The
Top
lattice node has empty
set intent and an extent as the set of all objects.
Mutatis mutandis the
Bottom
lattice node has empty
set extent and an intent as the set of all attributes.
A conceptual lattice is built by first preparing its
formal context
, i.e. a table displaying which objects
have certain attributes, marked by X signs. In
contrast to the Modularity Matrix, the formal context
has not been defined as
a matrix with numerical
matrix elements, allowing calculations. Moreover,
there are no underlying linear algebra theorems on
the formal context, such as being square or block-
diagonal. A formal context may be a rectangular
table without any specific requirements.
In this work, we make the unique decision of
generating conceptual lattices directly from given
Modularity Matrices, with the expectation that the
resulting Modularity Lattices carry on the
characteristic properties of
these matrices. This work
aims to show that this is indeed the case.
To show the equivalence of a modularity matrix
to a modularity lattice, we choose to match between
matrix 'structors' and the lattice intent (viz.
'attributes') on the one hand, and match between
matrix 'functionals' and lattice extent (viz. 'objects')
on the other hand. A link between a structor and a
functional corresponds either to an attribute in the
same node as its object, or to an attribute in a node
connected to a node by a downward set of edges in
the Lattice, not passing through
Top
or

Bottom

.
The conceptual justification for this matching is
clarified as follows. UML classes represent concepts
with definite intents. For
instance, the class "car" is
a type of vehicle with the intent of travelling on
roads. Cars have wheels, their speed and travelled
distance may be calculated by suitable functions (the
extent). The class "airplane" is another type of
transportation medium with a different intent, viz. to
travel by flying. Airplanes also have wheels, their
speed is also calculated by suitable functions. Thus
different classes have clearly different intents, but
may have similar extents.
Software conceptual lattices are a broader
subject than implied by th
e above simple examples.
They deserve extensive discussion, which is outside
of this paper scope. Here we focus on the
equivalence of Modularity Matrices and Modularity
Lattices. For further details on formal concepts, see
(Ganter, 1999), (Ganter, 2005), (Belohlavek, 2008).
The remaining
of this paper is organized as
follows. Section 2 refers to related work. Section 3
displays an introductory example. Section 4
formulates theoretical co
nsiderations. Section 5
deals with heuristics for modules' decoupling.
Section 6 presents canonical
case studies. Section 7
shows a larger system case study. The paper is
concluded by a discussion in section
2 RELATED WORK
In this work we refer to the modularity matrix – e.g.
(Exman, 2014). Other matrices have also been used
in the context of modularity. For instance, the
Design Structure Matrix (DSM) proposed in
(Steward, 1981), and incorporated in 'Design Rules'
(Baldwin, 2000). It has been applied in various
contexts – see e.g. (Cai, 2006).
Two essential differences between DSM and the
modularity matrix are: a- Linearity as an essential
idea of the modularity matrix; b- Both DSM
dimensions are labelled by the same structures.
The modularity matrix, in contrast to the DSM,
displays pairs of different entities, viz. structors to
functional links. The use of pairs of entities was
important to suggest the correspondence to
conceptual lattices, as the latter also refer to pairs of
entitities, viz. attributes and objects.
Conceptual lattices, generally known as part of
Formal Concept Analysis (FCA) were introduced in
(Wille, 1982). There are many available generic
overviews describing mathematical foundations
(Ganter, 1999), applications (Ganter, 2005) and
surveys of the field (Belohlavek, 2008).
FCA has been used as a technique for
modularization and system design. This includes
works such as (Lindig, 1997), (Siff, 1999) and
(Snelting, 2000). A specific usage of conceptual
lattices for software engineering is found in
(Heckmann, 2012).
3 INTRODUCTORY EXAMPLE:
COMMAND DESIGN PATTERN
The
Command
software design pattern, in the GoF
book (Gamma, 1995), serv
es as an introductory
example. The pattern decouples an object invoking
an action, say clicking a "Print" button, from another
object that actually prints a file. The pattern enables
generic features, such as Undo and Redo,
independently of the specific commands' nature.
3.1
Command
Modularity Matrix
The six structors in the
Command
Modularity Matrix
ICSOFT-PT2015-10thInternationalConferenceonSoftwareParadigmTrends
110