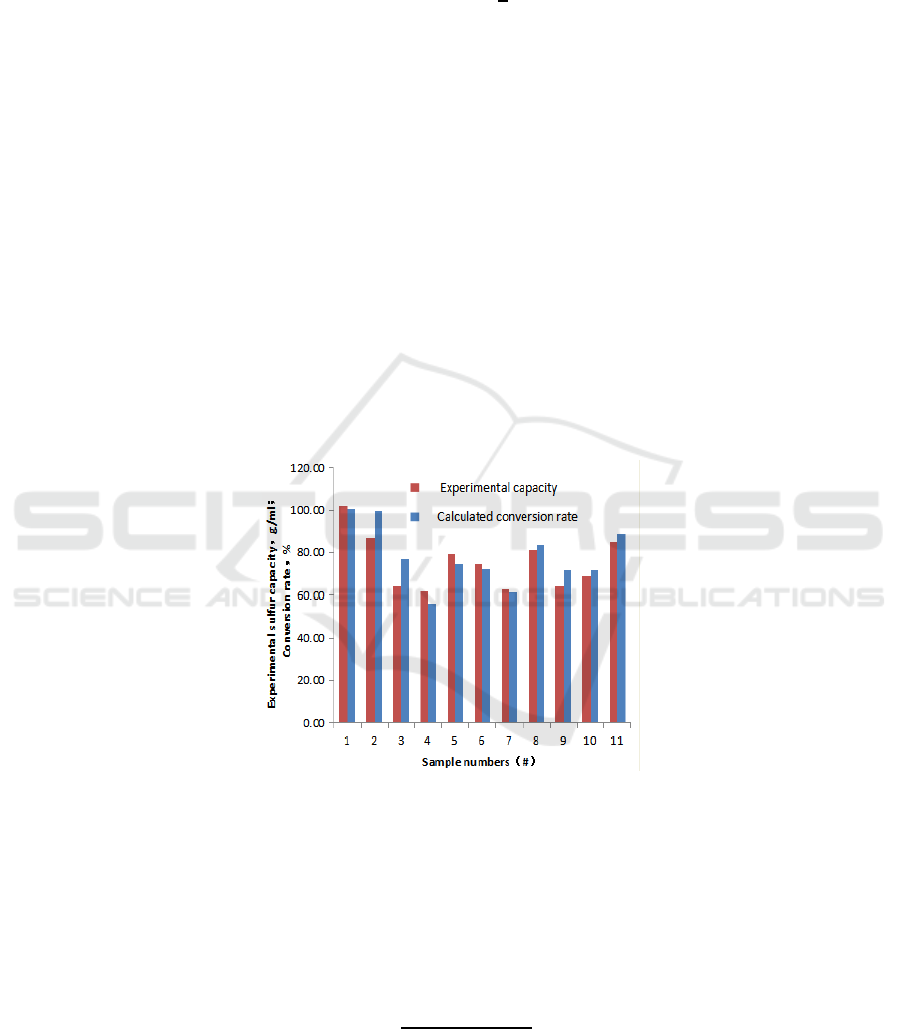 Vi
represents the total porous volume of a certain type of pore, and Vsi is single pore volume of a
certain type of pore; the volume of pore is approximated to a sphere, and can be calculated using the
formula of sphere as follows:







The total
conversion amount of H2S
under
different
pore-size distribution conditions
can
be
determined by solving the three simultaneous equations. Normalizing the above results with the total
amount of H2S involved
in the reaction, the actual conversion rate of H2S can be obtained.
According to the experimental conditions, the concentration of H2S is 42%, SO2 is 2.1%, and the
other
one
is
nitrogen
in
the
reactant
gas
at constant
pressure.
The actual
concentration
of
H2S
is
about 1.875mol/m3 and SO2 is about 0.9375mol/m3. Therefore, according to the previous simulation,
if
the concentrations of H2S and SO2 are assigned as 2mol/m3 and 1mol/m3 respectively, the process
of reaction is calculated as follows:
The radius of micropore, mesopore and macropore are assigned as r1, r2 and r3 respectively, and
the typical values of which are as follows:




The single pore volume with different corresponding
pore diameter can be calculated according to
formula (4).
Thus, the total conversion amount and conversion rate can be obtained. Based on the experimental
results, putting the previous calculation results into the former formula, the results of the comparison
are displayed,
as shown in Figure
1:
Figure 1
.
Results

comparisons of experimental sulphur capacity and calculated conversion rate.
Based
on
the experimental data and simulation results,
it shows that the sulfur capacity obtained
by experiments and the conversion rate gotten by simulation
have a similar
tendency.
2.
Contributions of different pare diameter
The contribution
of
pores with
different pore
diameter
of the different
catalysts to
the reaction
process can be calculated using
formula as follows:
 
















The
comparisons of the previous results and conversion rate data are shown in Figure 2:
Research
of
the
Pore
Structure
Model
of
Low-temperature
Claus
Catalyst
47